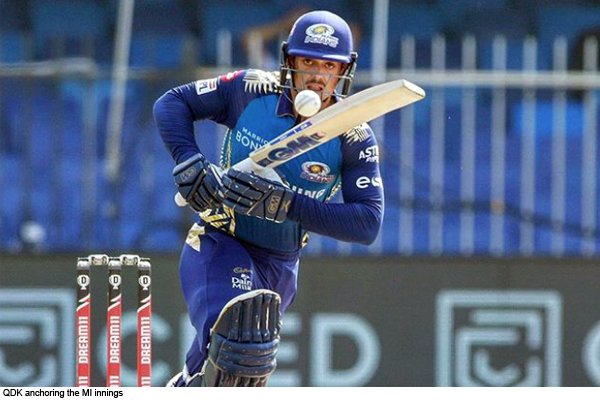 New Delhi: The 17th match of the Indian Premier League (IPL) is being played between Mumbai Indians and Sunrisers Hyderabad at Sharjah Cricket Stadium. On this ground yesterday, the Delhi Capitals beat Kolkata Knight Writers. Mumbai Indians have scored 209 runs to win in front of Sunrisers Hyderabad, batting first by winning the toss. Mumbai scored 208 runs losing five wickets. Hyderabad could only score 174 for 7 wickets in 20 overs and lost the match.
Mumbai did not have a good start. Captain Rohit Sharma went on to score 6 runs. This was followed by Surya Kumar Yadav and Quinton Decock. DeCock scored the highest score from 67 off 39 balls. He hit 4 sixes and 4 fours in his innings. There was a time that Mumbai would not be able to make much scones. But everyone played small but good innings in the middle order, on which Mumbai was able to cross the 200 mark. For Sunrisers Hyderabad, Siddharth Kaul and Sandeep Sharma took 2-2 wickets.
Sunrisers Hyderabad started well. Captain David Warner scored 60 runs off 44 balls. Johnny Brestow (25) and Manish Pandey (30) played together. But as soon as he was out, the middle order of Hyderabad stumbled and his team could only score 174 runs for 7 wickets in 20 overs. Mumbai did good balling and fielding and beat Hyderabad by 34 runs. For Mumbai, Trent Boult, James Pattison and Jasprit Bumrah claimed 2-2 runs.
Also read in Hindi: मुम्बई इंडियंस ने सनराइजर्स हैदराबाद को 34 रनों से हराया