31/10/2020
Mumbai Indians thrash Delhi Capital by 9 wickets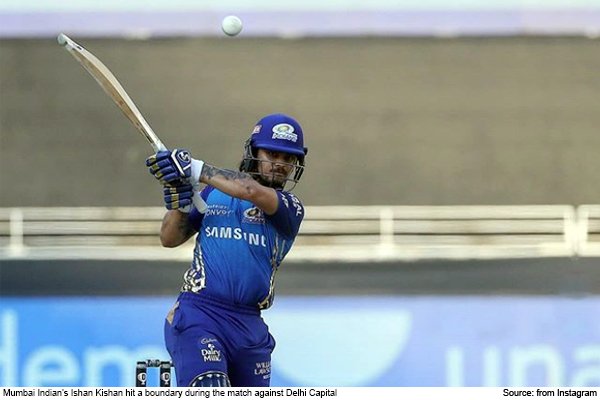 New Delhi: The 51st match of the Indian Premier League (IPL) was played between Mumbai Indians and Delhi Capital in Dubai. Delhi won the toss and decided to bat first. Delhi scored 110 runs in their first over losing 9 wickets in 20 overs and set a target of 111 in front of Mumbai. Mumbai won this match by scoring 111 runs easily after losing 1 wicket from 34 balls. With this win, Mumbai remains in first place in the points table.
Delhi Capitals could score only 110 runs while playing first. His debut was very poor. Shikhar Dhawan, who was in form, kept going out at zero. After that Prithvi Shaw, who came with him, could not stay at the crease for too long and lost his wicket in the process of scoring runs. After him, captain Shreyas Iyer and Rishabh Pant batted well for a while but both could not last long. Iyer scored 25 runs and Pant was dismissed by 21 runs. None of the batsmen who came after him were able to leave a special impact and the whole team was reduced to 110 runs. All bowlers bowled well from Mumbai. Trent Boult and Jaspreet Bumrah took 3-3 wickets.
The start of Mumbai was tremendous. Ishaan Kishan and Quinton Decock, who came to the opening, gave the team a good start. However, Decac was dismissed after scoring 26 runs. But Ishaan Kishan batted brilliantly today. He scored a brilliant 72 off just 47 balls with 8 fours and 3 sixes, giving his team an easy win. For Delhi, none of the bowlers except Ashwin failed to stop the Mumbai batsmen. Nortze got the only wicket.
Also read in Hindi: MIvsDC: मुम्बई ने दिल्ली को धोया, DC की प्लेआफ में जाने की उम्मीद हुई धूमिल