Today is the 125th birth anniversary of Subhash Chandra Bose, popularly known as Netaji.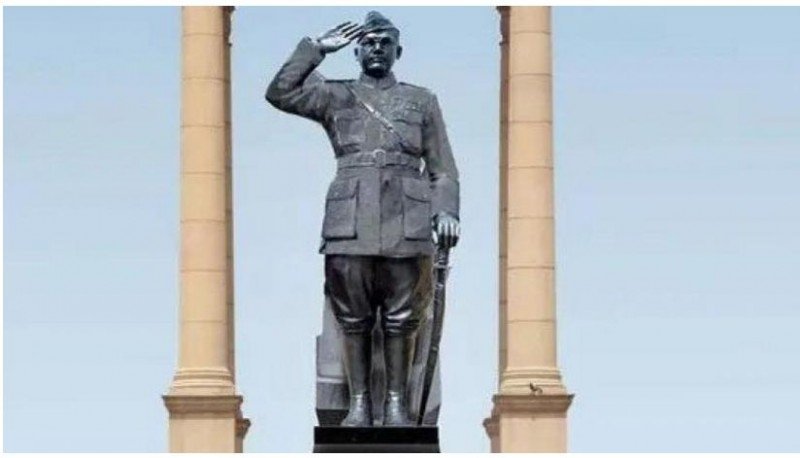 The installation of the statue of Bose will be part of the year-long celebrations of the 125th birth anniversary, the dimensions of the hologram statue will be 28 feet tall and six feet wide, adding that the granite statue will be installed under a canopy.
Ahead of Netaji Subhas Chandra Bose's 125th birth anniversary, Prime Minister Narendra Modi on Friday announced that a grand statue of the iconic freedom fighter would be installed at India Gate as a symbol of India's "debt".
His hologram statue would be present at the same place till the granite statue was completed, he said, adding that he would unveil the hologram statue on January 23, the birth anniversary of the founder of the Azad Hind Fauj. Later in a statement, the PMO said the installation of Bose's statue would be part of the year-long celebrations to mark his 125th birth anniversary.
Parakram Diwas: Know some interesting facts about Netaji Subhash Chandra Bose
To honor the late freedom fighter's indomitable spirit and selfless service to the nation, the Center decided to celebrate his 'Jayanti' every year as 'Parakram Diwas' with an aim to inspire citizens, especially the youth. is. The purpose of this day is to spread the spirit of patriotism among the people of the country.
Under the chairmanship of Prime Minister Narendra Modi, a cultural program called 'Amra Nutan Jubneri Envoy', based on Netaji's theme, is to be held during the inaugural ceremony of 'Parakram Divas' function at Victoria Memorial in Kolkata, West Bengal.
Netaji Subhash Chandra Bose was born on 23 January 1897 in Cuttack, Odisha, Bengal Division. Bose's father's name was Jankinath Bose and his mother's name was Prabhavati. Jankinath Bose was a famous lawyer of the city of Cuttack. Prabhavati and Jankinath Bose had 14 children in total, with 6 daughters and 8 sons. Subhash Chandra was his 9th child and 5th son. Netaji grew up to become an internationally renowned freedom fighter. Below are interesting facts about them.
Netaji's slogans
Netaji's slogan 'You give me blood, I will give you freedom', slogans like 'Jai Hind' served to give new energy to the freedom struggle. 'Delhi Chalo Nara' by Netaji is also very famous. In addition, the eminent freedom fighter selected 'Jana Gana Mana' written by Rabindranath Tagore as his favorite national anthem for independent India.
Netaji – a bright student
Netaji did his early education at Ravenshaw Collegiate School in Cuttack. He was then educated at the Presidency College and Scottish Church College, Kolkata. In 1920, he secured the fourth position in the Indian Civil Service (ICS) examination. But he quit the job to participate in the Indian independence struggle, as he did not like to work under the foreign government. After leaving the civil service, he joined the Indian National Congress to liberate the country from the clutches of the British.
Married your secretary
Netaji Subhash Chandra Bose married his secretary and Austrian girl Emily in 1937. The two had a daughter Anita and currently live with their family in Germany.
Netaji as a contemporary of Gandhi
The Tiger of Bengal, which roared for India's independence from British rule, was a contemporary of the Father of the Nation. Bose, known for his revolutionary approach, was both an ally and an antagonist of Mahatma Gandhi at different times during the Indian freedom struggle.
Netaji's newspaper and book
Netaji worked as the editor of a newspaper called Forward, his mentor Chittaranjan Das, a powerful politician from Bengal. Later, Netaji started his own newspaper, Swaraj, and also published a book – The Indian Struggle.
British Government and Bose
An eminent freedom fighter, known for his militant approach to liberate India, has been arrested and released countless times. Because the British government suspected them of being involved in covert revolutionary activities.
Netaji's Azad Hind Fuaz
Netaji formed the 'Azad Hind Sarkar' on 21 October 1943, establishing the 'Azad Hind Sarkar', to give India independence from the British. Netaji fought for independent India. 74 years ago he, along with his army, gave Nako Chana chew to the British. Here he gave the slogan 'You give me blood, I will give you freedom'.
Went to jail many times
From 1921 to 1941, he also went to jail several times for complete swaraj. He believed that freedom could not be achieved through non-violence. During the Second World War, he traveled to countries such as the Soviet Union, Nazi Germany, Japan, and sought cooperation against the British government.
Netaji's disappearance
Netaji's death is one of the biggest Indian mysteries. He is said to have died in an air crash in Taipei on August 18, 1945. This was confirmed by the Central Government in 2017 in response to RTI (Right to Information). Three inquiry commissions sat on the incident, out of which two investigative commissions claimed that Netaji had died after the accident. While the Third Commission of Inquiry headed by Justice MK Mukherjee claimed that Netaji was alive after the incident. However, various groups denied his death claim. Since his disappearance, several conspiracy theories have surfaced.
Modi government made confidential documents public
In 2016, Prime Minister Modi made public the digital version of hundred confidential files related to Subhash Chandra Bose, which are present in the National Archives in Delhi.