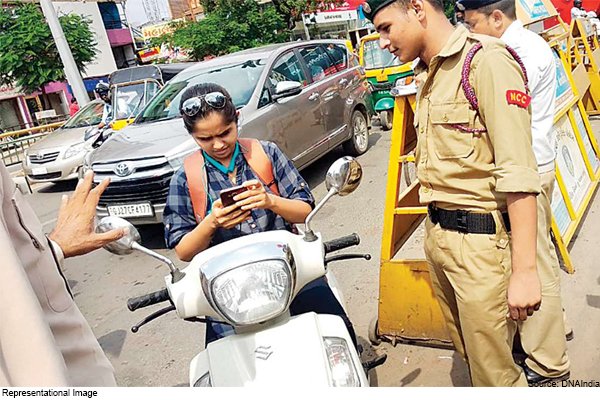 New Delhi: The hassle of keeping RC and driving license together while driving is nearing an end. Now you can also drive with a valid soft copy of these documents. Explain that during investigation these will be completely valid. Also, you will also be able to use your mobile to see the route while driving. In fact, the Ministry of Road Transport and Highways has issued notification of various such amendments made in the Motor Vehicles Rules 1989, which will come into effect from 1 October. So now you can relax and drive on the road.
The government has said that from October 1, 2020, all the documents related to the vehicle including driving license and e-challan will be maintained through an IT portal. During the investigation, physical documents (hard copies) will not be demanded in lieu of vehicle documents found valid through electronic means. It also states that the driving license details disqualified or revoked by the licensing authority will be recorded on the details portal and will also be updated.
The new rules also provide that the mobile can be used only for route navigation (for viewing way) while driving, but also to ensure that the driver is not distracted. However, talking on the phone while driving is not exempt.
The government said, "The Ministry of Road Transport and Highways has issued notification regarding various amendments made in the Motor Vehicle Rules 1989, including vehicle related documents through the portal from 1 October 2020 for better monitoring and implementation of the motor vehicle rules. And e-challan can be maintained.
Harassment of drivers ends
The ministry has said that the use of IT service and electronic monitoring will better implement traffic rules in the country. Along with this, the harassment of drivers will also end and people will get convenience.
All the records will be on the portal
Provisions have been made for the process of making physical and electronic certificates available on the portal. Validity of such document, issue of it, date-time seal of its investigation and identification of the officer will be recorded on this portal. This will help prevent unnecessary double-check of vehicles, thereby stopping harassment of drivers.
Also read in Hindi: अब नहीं रखना होगा RC और DL साथ, 1 अक्टूबर से बदल रहे हैं नियम