13/02/2021
NSA Chief Doval on Pak target, got JeM terrorists Reiki at his office
New Delhi: Security of National Security Advisor (NSA) Ajit Doval (Ajit Doval) has been increased. The security agencies have taken this step after getting a video of Reiki at his office.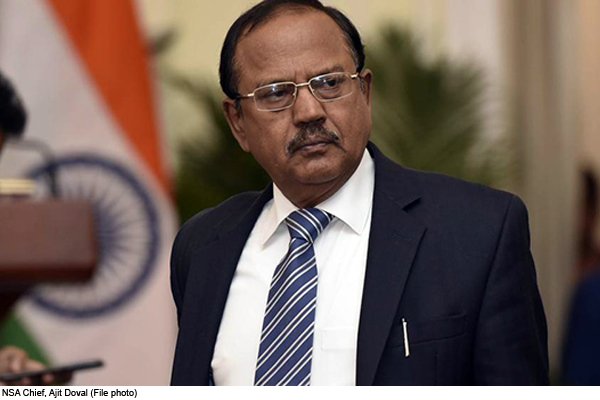 In fact, the terrorist of Jaish-e-Mohammed, living in Shopian, Kashmir, was arrested on 6 February. This video has surfaced during his interrogation. The terrorist was about to send these videos to his Pakistani handler, who he knew as a doctor.
Media reports quoting sources associated with the case said that Jaish militant Hidayatullah Malik said during interrogation that he had raked Doval's office and some other important buildings at the behest of his Pakistani handlers.
Was about to send video to your boss
Hidayatullah Malik was arrested in Anantnag. He heads Jash's front group Lashkar-e-Mustafa. At the time of arrest, a large quantity of ammunition was recovered from Malik. According to sources, Malik told that he came to Delhi from Srinagar on 24 May 2019 on an IndiGo flight. In addition to Doval's office, Sardar Patel Bhavan, Malik was also supposed to make a video of the security system for Bapth. Malik was about to send these videos to Pakistani handlers via WhatsApp. He was arrested before that.
During interrogation, Malik said that the Pakistani handler who was supposed to send the video of Reiki is named Doctor. Malik had returned to Kashmir after Reiki. He also mentioned that in the summer of 2019, he also performed Reiki of the Samba Sector Border Area. He also revealed that he had done this Reiki with Sameer Ahmed Dar. Sameer Ahmed was arrested on 21 January 2020 in the Pulwama attack case.
Suicide attack was planned in 2020
According to reports, Malik also said during interrogation that he was given a Santro car in May 2020 for a suicide attack. For this Malik along with his teammates Irfan Chumb, Umar Mushtaq and Rais Mustafa looted Rs 60 lakh from a cash van of a bank in Jammu and Kashmir. Malik has also given the contact number, code name of 10 Pakistan-based people during interrogation. Based on this description, two terrorists were piled into Shopian and Sopore.
Malik joined Hizbul Mujahideen in July 2019. Prior to this he worked as an over ground worker of Jaish. However, he was later transferred to Jaish. In February this year, he formed Jaish's front group Lashkar-e-Mustafa.
Doval on target after surgical strike and air strike
NSA Doval has been on the trail of Pakistan-based terrorist organizations after the Uri surgical strike and the Balakot air strike. Doval also has an old rivalry with Jaish's kingpin Masood Azhar. After the arrest of Masood Azhar in 1994, Doval interrogated him. After the Kandahar plane hijack in 1999, Doval also took Masood Azhar to the Kandahar Airport.
(With agency input)