30/04/2021
Oxygen express campaign of Indian Railways continues in order to reach relief to states
New Delhi: The Oxygen Express journey of Indian Railways continues and is becoming the basis of large number of lifesaving. In view of the increasing demand from the State Governments, the Railways have made full preparations to run more number of Oxygen Express.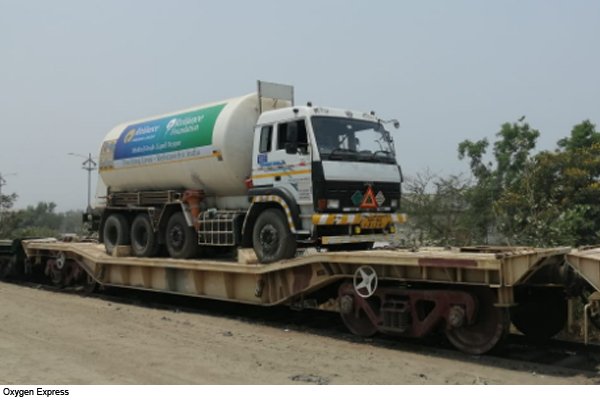 The second Oxygen Express will reach Madhya Pradesh today. The four-tankers from Bokaro, carrying 47.37 metric tonnes of liquid medical oxygen, will be supplied to Sagar and Jabalpur. The train departed from Bokaro on 29 April 2021 and is proceeding towards its destination without any disruption. It is expected to reach the designated places by this evening.
Haryana will soon receive its first and second Oxygen Express. One train has departed from Rourkela in Odisha carrying 47.11 metric tonnes of liquid medical oxygen in 3 tankers while the other has left for 32.2 tonnes of oxygen in 2 tankers from Angul towards its destination. Both these trains will soon reach the designated places to meet the much-needed requirement of the people of Haryana in their scheduled time.
Uttar Pradesh is continuously meeting its oxygen requirements with the help of Oxygen Express. The 7th Oxygen Express for Uttar Pradesh is scheduled to leave from Bokaro soon. The vehicle will arrive at the destination carrying liquid oxygen in three tankers. In order to speed up the supply of oxygen in the state, the Government of Uttar Pradesh has requested ISO containers of 10 feet to supply liquid oxygen from Jamshedpur to Lucknow. Transport of ISO containers requires additional caution and planning, and railway authorities are working to find better options available for the safe supply of ISO containers. There is a possibility that the loading of ISO containers may begin on May 1, 2021 in Jamshedpur.
Indian Railways has so far supplied a total of 664 MT liquid medical oxygen, including 174 MT to Maharashtra, 356.47 MT to Uttar Pradesh, 64 MT to Madhya Pradesh and 70 MT to Delhi. Haryana and Telangana will also receive Oxygen Express soon.