22/02/2021
PLA announced the death of their soldiers, Chinese citizens erupted, made target of Indian Embassy
New Delhi: Chinese citizens have started targeting the Indian Embassy on social media after the People's Liberation Army (PLA) announced the death of their soldiers. 20 soldiers of Bharat (India) were martyred in the violence in Galwan in Ladakh. Although many soldiers of China were also killed, but China never officially announced it.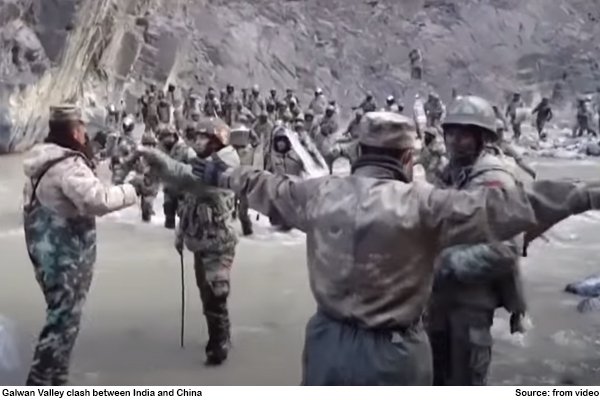 Last Saturday, the PLA admitted for the first time that 4 of their soldiers had also been killed in the Galvan Valley violence. Although China reported a very low number of soldiers dying, the people of China are still shocked. In this fury, he has come out against India on hate messages, profanity and abusive speech. Not only this, there is a flood of anti-India messages on social media in China and the Indian Embassy is constantly being targeted.
Thousands of derogatory messages have targeted the Indian embassy's Twitter-like Weibo account as news of the deaths of four Chinese soldiers in June last year and the injuries to Chinese soldiers in the deadly Galwan Valley skirmish was published in the PLA Daily newspaper on Friday.
Emotions are running high among Chinese netizens over the deaths of soldiers, while state media reported that a man was arrested in Nanjing City for publishing derogatory remarks about PLA soldiers.
On Friday, in June last year, several videos were shown in the Galvan Valley during a fight between Indian and Chinese soldiers, which were uploaded to several websites and viewed millions of times.
The edited video shows Indian soldiers beating Chinese soldiers. The message for the domestic audience was clear – how the Chinese soldiers showed restraint and bravery while not fighting with the Indian soldiers, it is shown in this video, which is edited. No video has shown that 20 Indian soldiers were killed in the clash. However, pictures of the four PLA dead soldiers were circulated online, and the Indian embassy in China faced strong backlash from Chinese citizens.
For millions of Chinese people, this was the first time they saw their country's soldiers dying in battle.
However, the nationalist tabloid, Global Times, published an editorial to give its perspective on why information about PLA soldiers has been made public 8 months after the conflict.