17/01/2021
PM Modi flags off eight trains to Statue of Unity from different part of India
New Delhi: Prime Minister Narendra Modi on Sunday flagged off eight trains connecting Kevadia to different regions of the country with the aim of providing uninterrupted connectivity to the Statue of Unity in Gujarat. Kevadia station is the first railway station in India with green building certification. These projects aim to promote development and tourism in the region.
Modi said on Saturday that Kevadia railway station is India's first green building certification. A total of 10 trains will be connected to Kevadia, out of which 3 trains have been expanded and 7 trains have been started for their regular run.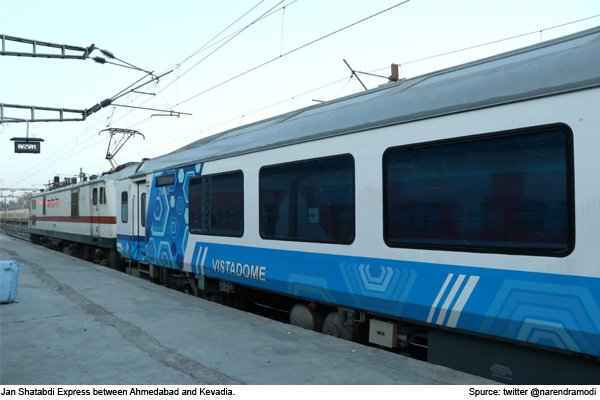 With the running of this train, people from other cities of North India including Delhi-NCR will be able to visit the Statue of Unity. Till now there was no direct train, people had to go by road after Vadodara. Officials said that as of now it will also run as a special train like other trains. Passengers will have to book tickets from the Indian Railway Catering and Tourism Corporation Limited website or mobile app.
The Prime Minister's Office (PMO) said earlier on Friday, Modi will inaugurate several other railway projects related to Gujarat through video-conferencing during the program on Sunday. He will inaugurate the new broad-gauge line and new station buildings of Dabhoi, Chandod, and Kevadia.
The PMO said, "The projects will boost development activities in the surrounding tribal areas, increase connectivity with important religious and ancient pilgrimage places on the banks of river Narmada, increase both domestic and international tourism, catalysts for overall economic Will act as The area will develop, helping to create new jobs and business opportunities. "
Prime Minister Narendra Modi will flag off eight trains from Kevadia to Varanasi, Dadar, Ahmedabad, Hazrat Nizamuddin, Rewa, Chennai, and Pratapnagar stations on Sunday. One of the new trains is the Janshatabdi Express between Ahmedabad and Kevadia which will have Vistaadome coaches, Modi said and posted some pictures on Twitter.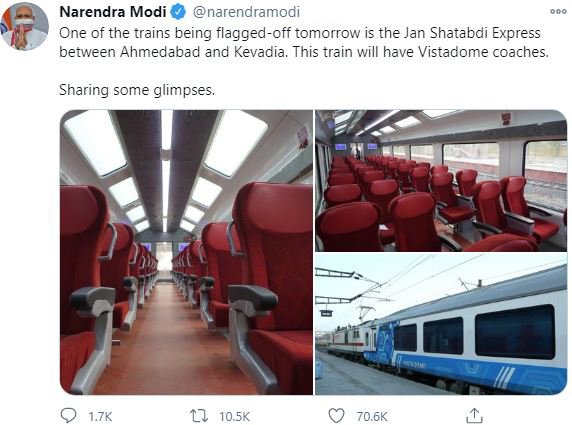 Prime Minister will show a green signal to these trains
09103/04 Kevadia to Varanasi Mahamana Express (Weekly)
02927/28 Dadar to Kevadia Dadar Kevadia Express (daily)
09247/48 Ahmedabad to Kevadia, Janshatabdi Express (daily)
09145/46 Kevadia to Hazrat Nizamuddin Samparkkranti Express (2 days a week)
09105/06 Kevadia to Rewa, Kevadia Rewa Express (Weekly)
09119/20 Chennai to Kevadia, Chennai Kevadia Express (Weekly)
09107/08 Pratapnagar to Kevadia Memu train (daily)
09109/10 Kevadia to Pratapnagar Memu train (daily)