08/04/2021
PM Modi took second dose of Corona vaccine, appealed to all eligible people
New Delhi: Prime Minister Narendra Modi took the second dose of Covid vaccine in AIIMS, Delhi today, 37 days after his first shot and appealed to all those eligible people to get vaccinated against the deadly virus. PM Modi took his first dose of vaccine on March 1.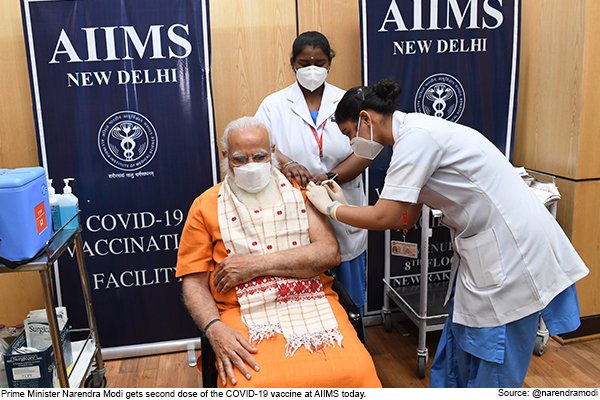 He tweeted, "Took a second dose of Covid-19 vaccine today at AIIMS. Vaccination is also one of the ways to defeat the virus. If you are eligible to be vaccinated, get vaccinated as soon as possible. Registered at Covin.gov.in.'
The Prime Minister also posted a picture of himself getting vaccinated. Prime Minister Modi has vaccinated the indigenous covicin vaccine manufactured by Bharat Biotech. The two nurses who vaccinated PM Modi are P Niveda from Puducherry and Nisha Sharma from Punjab. P Niveda was also among those who vaccinated her on March 1.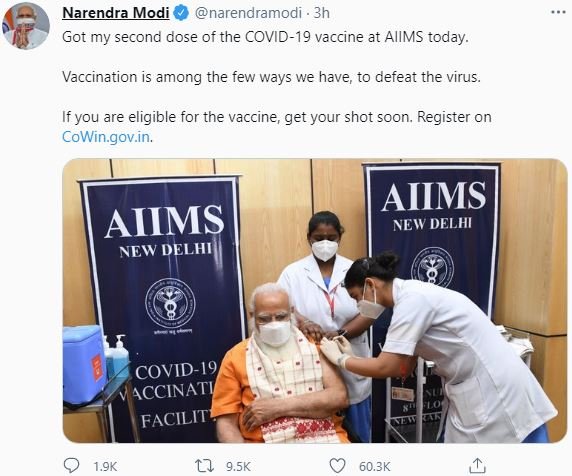 Sister Nisha Sharma said, "I gave Prime Minister Narendra Modi a second dose of Corona vaccine today. They talked to us. It was a memorable moment for me because I got to meet him."