12/01/2021
Politics of dynasty is the main reason for social corruption: PM Modi
New Delhi: Prime Minister Narendra Modi has called upon the youth of the country to contribute selflessly and constructively to politics. Addressing the concluding session of the second National Youth Parliament Festival today, the Prime Minister said that politics is a great medium to bring about meaningful change and like every other field, the presence of youth in politics is important.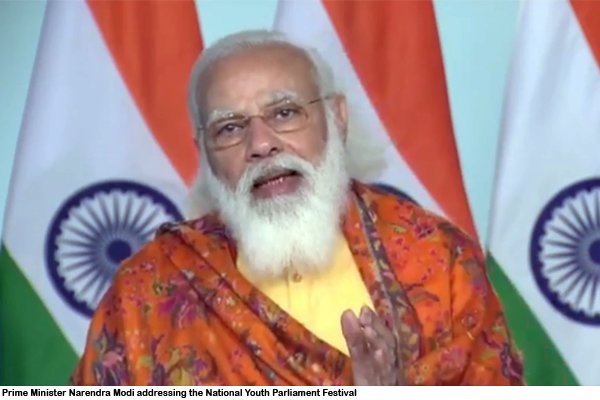 The Prime Minister assured the youth that today, honest people are getting an opportunity to serve, the old perception of politics related to dishonest activities is changing. Today honesty and performance have become the need of the hour.
In this context, the Prime Minister discussed in detail the politics of the dynasty. He said that corruption has become a burden on those whose legacy was corruption. The country is preferring honesty over family relations and candidates are also realizing that only good works matter.
He called upon the youth to abolish the dynastic system. The politics of dynasty gives rise to inefficiency and dictatorship in the democratic system as these dynasties work towards protecting their family in politics and politics. The Prime Minister said, "Now the days of winning elections with the help of one name are over, but this disease of dynastic politics is not over yet … Political dynasty promotes self and family instead of advancing the nation. It The main reason for social corruption in India.
The Prime Minister called upon the youth to enter politics as their coming would ensure the end of dynastic politics. He said, "To save our democracy it is necessary that you come into politics. You have a great mentor as Swami Vivekananda and if our inspiration brings our youth into politics, the country will be strong. "