05/04/2021
PR veteran Gurumukh Singh Bawa honoured with Life Time Achievement Award by Media Federation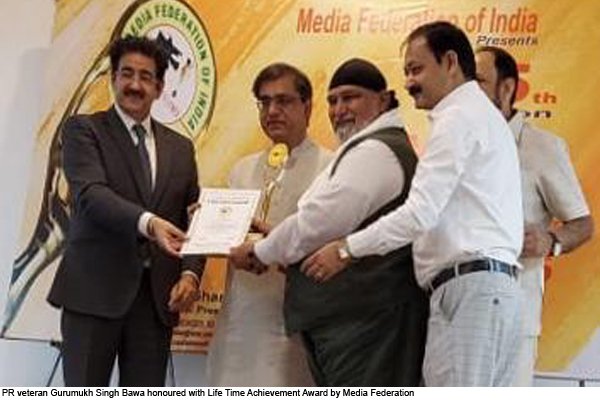 NEW DELHI: Gurmukh Singh Bawa, former general manager (GM), Airports Authority of India (AAI) has been honoured with Life Time Achievement Award for his contribution to the field of public relations (PR). The award has been conferred on him at a function, Media Excellence Award, organised by the Media Federation of India, in New Delhi on Saturday (April 13.
The award function was attended by R & Media professionals, Media educators and journalists. Veteran media educator, founder of Noida Film City and President of Asian Academy of Film & Television, Sandeep Marwah, Arun Sharma , national president MFI, Om Prakash, former GM (PR), Power Finance Corporation , and senior journalist Shiv Bhatia were present on the occasion.
The honour is well deserved. GS Bawa is a known face in the corporate communications circles of the country. Retired from AAI, the leading PSU in the country, in the year 2016, he is presently actively associated with promoting corporate communications and corporate affairs functions at various forums.
While in service, Bawa contributed immensely to the efforts on setting benchmarks for PR within his domain, now he is involved in setting standards for the profession and introducing new talents in the media through awareness initiatives/programs of various professional bodies namely Public Relations Society of India's FAST (Foundation for Aviation and Sustainable Tourism) Air Travelers' Association of India and other such instep.
GS Bawa loves sharing his experiences and training new buddies for PR profession through developing effective training modules and other such tools. He is a globally renowned speaker and a former senior executive from the aviation industry having over 30 years of working experience in airport planning, administration and management. He believes that sharing is another way of learning as it enables emptying the cup and learning enables him to meet the future challenges in a more sustainable manner.
The credit for introduction and implementation of an innovative revenue model for PR functions in public sector organisations goes to Mr Bawa. This model has become a trendsetter in due course of time. Mr Bawa is always ready to share all-encompassing business tools at his disposal and over a period of time his public speaking has rippled a new wave of enthusiasm amongst the business thinker and aviation professionals and experts.
During his tenure with AAI and AERA (Airport Economy Regulatory Authority) and senior management groups, Bawa sahab contributed extensively to administrative reforms and participated in meetings on management with the government, Parliament committees, national and international committees and represented India at ICAO, an UN body, and at other professional platforms and trade organisations and public shows.
In the course of his career spanning over three decades, his activities included setting up of statistical systems, MIS, computerisation, designing and conducting passenger opinion surveys, O&D surveys, OR surveys. On the international front, the image building of the organisation was assigned to him during his tenure as head of the PR department and he is known for his effective delivery.