11/02/2021
Priyanka Gandhi took holy dip on Mouni Amavasya, into Prayag Sangam
Lucknow: The Magh Mela at Prayagraj is a major tourist attraction on the Sangam Ghat on Mauni Amavasya, the main bathing place of Mauni Amavasya.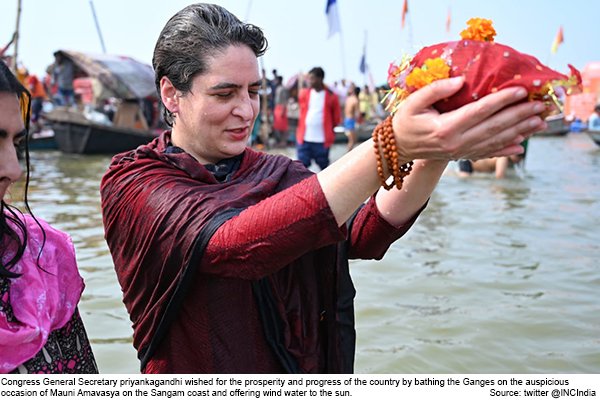 On this occasion, Congress General Secretary Priyanka Gandhi Vadra performed a holy bath and worship at the Sangam in Prayag on the occasion of Mauni Amavasya on Thursday. Priyanka herself came back to the ghat riding a boat and gave two thousand rupees in reward to the sailor. However, no 'VIP treatment' is being given to the Congress leader on his visit to Prayag.
While sharing his pictures on the official official Twitter handle of the Congress, it is written that Congress General Secretary Priyanka Gandhi Vadra wished for the prosperity and progress of the country by bathing the Ganges on the auspicious occasion of Mauni Amavasya on the Sangam Coast and offering wind water to the sun.
While she was going for bath and worship, she was accompanied by her daughter Miraya and some others. When Priyanka Gandhi boarded the boat and went towards Sangam, the Yogi government was making flowers rain on the pilgrims present at the Magh fair by helicopter. Priyanka Gandhi and the people accompanying her also showered flowers.
On the auspicious occasion of Mauni Amavasya in Dharmanagri Prayagraj, the Kalpavis and devotees today pay tribute to the eternal culture and faith on the flowers.
Priyanka was scheduled to reach Prayagraj at 11 am. She also went to Magh Mela at Sangam. The Congress leader will have lived in Anand Bhawan, the residence of the Nehru family in the past, which has now been converted into a museum.
"No political event has been planned during his visit," the news agency ANI quoted a source as saying. She will return to Delhi in the evening. "
His sudden arrival and holy dip at the Sangam can be seen as a Hindutva cadre in the state as the Congress attempts to revive its support base in Uttar Pradesh ahead of next year's assembly elections.