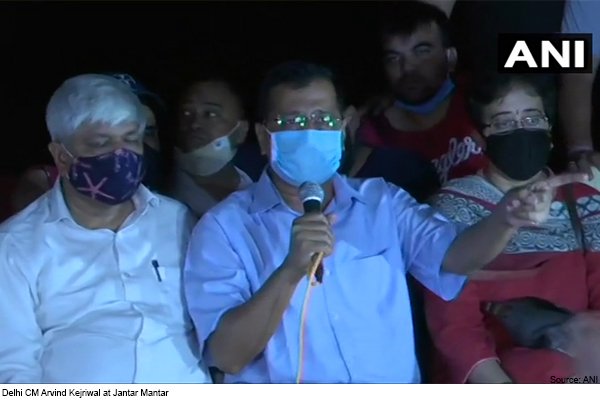 New Delhi: The whole country is boiling over the Hathras gang rape case. Strikes are being performed all around. On social media, people are demanding justice for the victim and demanding execution of the culprits. Here, in Delhi too, many organizations have started protests at Jantar Mantar. Even Delhi Chief Minister Arvind Kejriwal did not miss this opportunity and reached Jantar Mantar and supported the protesters. He said that there should not be any incidents of rape in the country, whether in UP or Rajasthan or anywhere. CPM General Secretary Sitaram Yechury and CPI leader D. Raja were also behind the protestors, they also joined the protesters. Yechury has even demanded the resignation of UP CM Yogi Adityanath. Let us know that on Thursday, Priyanka Gandhi Vadra also tweeted and demanded Yogi Adityanath's resignation.
Delhi CM Arvind Kejriwal, who arrived in Janthamantar, alleged in the Hathras case that some people are trying to save the culprits. He has also said that the victim's family needs the support of the people of the country. Kejriwal said, "The whole country wants the guilty to be punished." Some people feel that efforts are being made to save the culprits. Right now, the victim's family needs every possible help. "The Delhi Chief Minister said," There should be no politics on this issue. Why should such an incident happen in UP, MP, Rajasthan, Mumbai or Delhi? There should not be any incident of rape anywhere in the country. "
In view of the dharna-demonstration in Delhi, the Delhi Metro has closed the entry and exit gates for Janpath. The exit gates on Rajeev check and Patel check have been closed. No trains will stop at these stations till further orders.
The Jantar-Mantar protests have begun to attract leaders. Aam Aadmi Party leaders Saurabh Bhardwaj, Jignesh Mevani and Bollywood actress Swara Bhaskar have also joined the performance. Chandrashekhar Azad, the chief of Bhima Army, also said that he was going to stay behind, if he keeps looking for such occasions, then he too has reached the protest site. Explain that earlier this demonstration was going to happen at India Gate, but after the Delhi Police imposed Section 144 around India Gate, the protest venue has been changed. A heavy police force has been deployed in Jantar Mantar and surrounding areas.
Also read in Hindi: हाथरस गैंगरेप केसः जंतर-मंतर पर शुरू हुआ प्रदर्शन, सीएम केजरीवाल भी पहुंचे