06/05/2021
Railway has provided 70,000 isolation beds in over 4400 Covid coaches
New Delhi: The Railway Ministry is supporting and taking steps as much and promptly as possible in India's struggle with the Covid epidemic. This has included providing covid care coaches from one place to another on the demand of the states, ranging from easy access to human resources and goods from one place to another. The Indian Railways has so far converted 4400 coaches into isolation coaches, producing about 70,000 beds. These isolation coaches can be easily moved from one place to another on the network of Indian Railways on the demand of the states. Rapid MoUs are being worked out between the concerned District Authority and the Railways, which include the Shared Liability and Action Plan.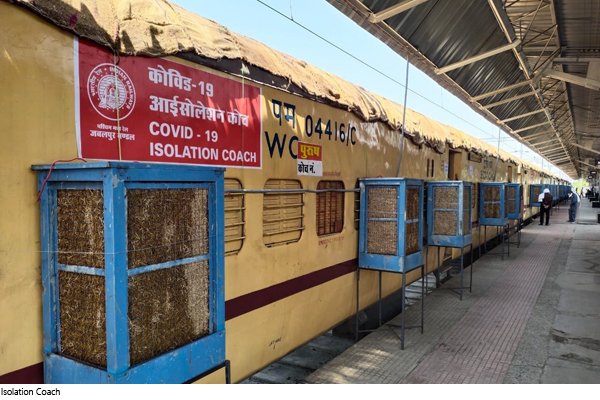 As per the latest update, Nagaland and Gujarat also demanded isolation coaches from the Indian Railways and the Railways took immediate steps to deploy rail coaches at Sabarmati and Chandlodia in Gujarat and Dimapur in Nagaland. The Railway is also committed to following the Kovid-19 guidelines as well as providing better work experience and facilities to the medical personnel of the States posted on the service. In some places, the railway authorities are providing new types of logistic solutions which include separately reserving the platform area around ramps and isolation coaches to transport the patients to Kovid-19 coaches without any hindrance so that movement of medical personnel Easy and medical items can also be transported easily. Camps have also been set up around isolation coaches. It is noteworthy here that railway personnel worked on a war footing to provide ramps.
Till date, a total of 232 isolation coaches have been provided on demand from different states with a total capacity of more than 4000 beds. Recently, on the demand of the Gujarat State Government, the Railways made available 10 coaches in Sabarmati and 6 in Chandlodia under MoU with Ahmedabad Municipal Corporation. Railways have deployed 10 isolation coaches at Dimapur on the demand of Nagaland State Government. Apart from this, isolation coaches provided in Jabalpur have started services. As per the terms and conditions agreements with Palghar district administration, services of 21 Kovid care coaches have also started in Palghar. Two sets of oxygen cylinders have also been provided for patients for emergency use.
The latest status of Kovid-19 coaches deployed in Delhi, Uttar Pradesh, Madhya Pradesh and Maharashtra is as follows:
During the last few days, 14 new patients were admitted in Nandurbar, Maharashtra, while 13 patients have been discharged so far. Presently, 26 patients are availing this Kovid care facility. A total of 104 patients were admitted so far, of which 78 patients were discharged by the state health authorities. Railways has also deployed 11 coaches at Ajni, Inland Container Depot, out of which 1 coach is reserved for medical personnel and medical supplies. This facility has been handed over to Nagpur Municipal Corporation. So far 6 patients have been admitted here and 4 have been discharged.
In order of the demand of the Government of Madhya Pradesh, Ratlam Division of Western Railway has provided 22 covid care coaches in Tehi near Indore with a total capacity of 320 beds. So far 19 patients have been admitted and one patient has been discharged. 20 care coaches were provided in Bhopal where 302 patients could be kept in isolation. According to the latest data, so far 28 infected people have been admitted here and 12 patients have been discharged after treatment. 273 beds are still available here.
The Indian Railways in Delhi met the state government's demand for 75 kovid care coaches with a total capacity of 1200 beds. Out of these, 50 coaches have been deployed at Shakurbasti while 25 coaches have been deployed at Anand Vihar railway station. A total of 5 patients have been admitted to Delhi Kovid Care Rail Coaches so far, out of which 4 have been discharged. There are currently 1199 beds in these care coaches in Delhi.
A total of 162 people were recruited, out of which 96 were discharged according to the latest data in the Kovid care train coaches provided so far in the above mentioned states. At present, 66 patients are availing this facility. While 3600 beds are available for use at these locations.
Despite the demand of Kovid care coaches from the Uttar Pradesh state government till now, the Railways have already made 10 to 10 coaches available at each location in Faizabad, Bhadohi, Varanasi, Bareilly and Najibabad. The total capacity of these 50 Kovid care coaches is 800 beds.