23/01/2021
Railways finalize tender for Vande Bharat trains, boost to 'Make in India' mission
New Delhi: The Indian Railways has finalized the tender of Vande Bharat trains on 21 January 2021. This will include train design, development, manufacture, supply, integration, testing, and IGBT-based 3-phase propulsion, control, and manufacture of 44 rakes each for 16 cars. Under this process, an annual maintenance (maintenance) contract will also be with the company receiving the tender for 5 years.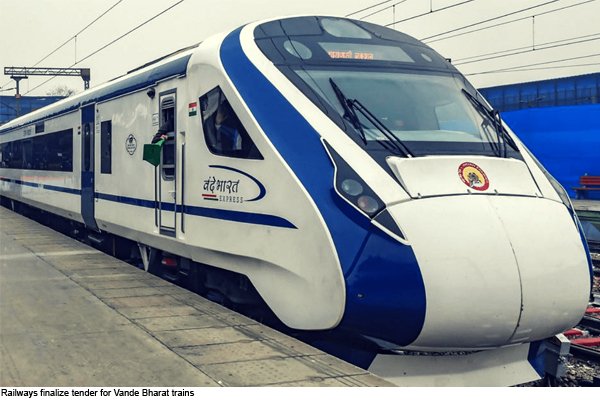 Various conditions were formulated after consultation with representatives of industries at various levels for the construction of train sets indigenously. For the first time, 75% of the total value in the tender will be met from the local level. The initiative is expected to promote the "Self-reliant India" mission.
In this tender, 3 companies had submitted tenders. The lowest bid was from the indigenous company, Messrs Medha Servo Drives Limited, which successfully met the condition of the supply of local goods for an amount equal to 75 percent of the total value. On this basis, the tender was awarded to Medha Servo Drives Limited.
The total cost of the tender is Rs. 2.02 crore. Under this, 16 cars will be manufactured. Each car will have 44 rakes. These will be constructed in three production units of Indian Railways. Under this, 24 racks will be made in ICF, 10 racks in RCF, and 10 racks in MCF.
The supply of these rakes will be as per the following timetable. The first 2 prototype racks will be delivered in 20 months, after which they will have to deliver an average of 6 racks each quarter, upon successful commissioning.