29/01/2021
Rakesh Tikait lost his temper in front of the camera, beat up a man
New Delhi: The farmers' movement is not even taking the name of abolition. This morning, the Bharatiya Kisan Union (BKU) spokesperson Rakesh Tikait beat a man in front of the camera on the Ghazipur border and asked him to leave the protest site immediately.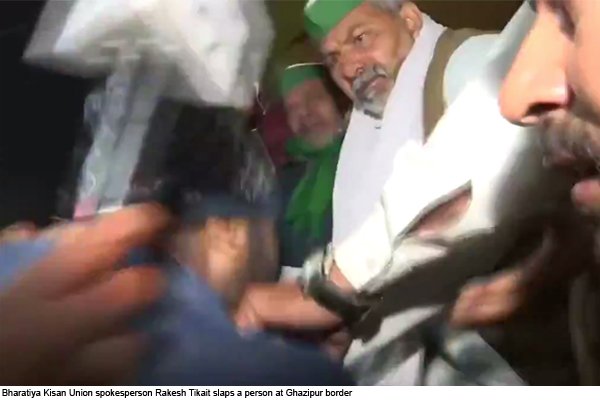 Explain that hundreds of farmers, led by him on the Ghazipur border, are protesting against the three new agricultural laws. And yesterday he had made the most appeal to keep the peace at the picket and not to do any wrong. After being slapped, Tikait said, "He is not a member of our organization. He was picking sticks and was about to do something wrong. "He was also misbehaving with the media. He said, "Whoever is here with a bad intention or a wrong mindset, immediately leave this place."
Explain that the Center has extended the period of deployment of 4 companies of Rapid Action Force (RAF) till 4 February to maintain law and order in Ghaziabad due to opposition from farmers. Their deployment was earlier till 28 January, but in view of the demonstration of farmers on the Ghazipur border, it has been decided to pursue it.
#WATCH: Bharatiya Kisan Union spokesperson Rakesh Tikait slaps a person at Ghazipur border (Delhi-Uttar Pradesh). pic.twitter.com/fhRSbdlhgY

— ANI (@ANI) January 28, 2021
The Ghaziabad district administration has also served a notice to vacate the dharna site to the farmers who are staging the Ghazipur border but the farmers refused to vacate the place. Earlier, the Delhi Police issued a notice to Rakesh Tikait asking why legal action should not be taken against the farmers for breaking the agreement related to the tractor march on January 26?