26/01/2021
Republic Day 2021: Farmers' Tractor rally in Delhi today, what routes to avoid
New Delhi: The country is celebrating 72nd Republic Day today. At the same time, the farmers who have been protesting at different borders in Delhi for the last 62 days, are going to take out a tractor rally today. Delhi Police has cleared this tractor march of farmers with some conditions. The Delhi Police said that after the Republic Day parade ended, barricades would be removed from the Singhu, Tikri and Ghazipur borders and farmers would be allowed to travel up to 100 km inside Delhi with their tractors. This march will be about 100 kilometers long. Due to this people of Delhi-NCR may have to face heavy traffic, barricading.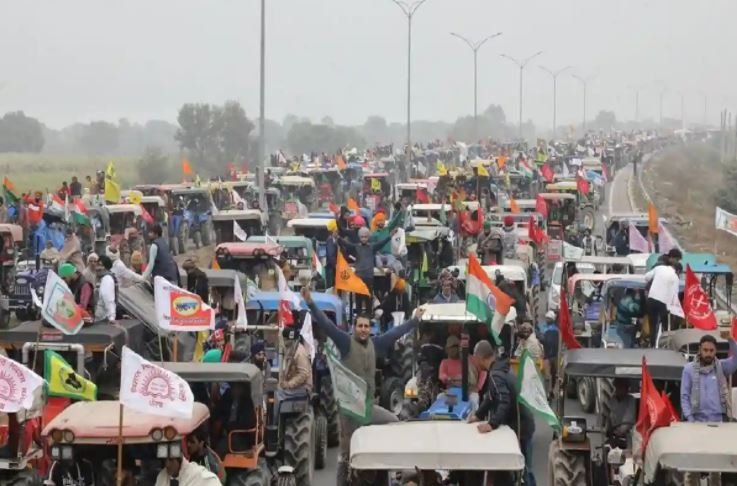 The Delhi Traffic Police has issued a traffic advisory for 26 January. Apart from this, Delhi Metro has also told how its services will work on the occasion of Republic Day. The traffic police has told that the Republic Day parade will start from Vijay Chowk at 9.50 am and will proceed towards the National Stadium. The tableaux will start from Vijay Chowk and go towards the Red Fort Ground. Keeping these in view, the traffic police has said that
Traffic will not be allowed at Vijay Chowk on January 25 from 6 pm until the parade is over.
Cross traffic will not be allowed at Rajpath Intersections on Rafi Marg, Janpath, Man Singh Road till 11 pm on January 25, till the parade is over.
On January 26, the C-Hexagon-India gate will be closed for traffic from 5 am until the tableau crosses the Tilak Road.
Traffic will not be allowed in both carriageways on Tilak Marg, BSZ Marg and Subhash Marg from 4 am on 26 January. Cross traffic will be allowed on the basis of moving tableaux.
Regarding this, along with Delhi Police, the Haryana Police has also issued advisory. Haryana Police says that people will face roadblocks on the national highway between Karnal to Delhi and Rohtak to Delhi from 25-27 January due to security and traffic arrangements. During this period, traffic movement will not be accessible at the interchanges in Kundli, Asaudha and Badli. Hence, it is advisable not to use these routes on these dates to avoid any inconvenience.
Traffic coming from Noida and Ghaziabad towards Delhi has been kept closed at Chilla Border and Ghazipur Border. People have been advised to use the routes of Anand Vihar, DND, Apsara, Bhopura and Loni Border. From Chilla Border you can go to Noida from Delhi, but the road will be closed for coming from Noida to Delhi. People have to come from New Ashok Nagar or DND. For Haryana, Daurala, Jharoda (Single Road), Kapashera, Badusarai, Rajokari NH 8, Bijwasan / Bajghera, Palam Vihar and Dundahera border will remain open.
Singhu, Auchandi, Piau Maniyari, Saboli and Mangesh border will remain closed. People have been advised to take alternate routes through the toll tax border at Lampur, Safiabad, Palla and Singhu schools. Traffic diverted from Mukarba and GTK Road. Along with this it is advised to avoid the outer ring road, GTK road and National Highway 44. While Tikri, Dhansa border are closed for any traffic movement. The Jhatikara border will be open only to two wheelers and pedestrians.
Let us tell you that in the severe winter and falling mercury, as well as the dangers of corona, a large number of farmers have settled on different borders in Delhi since 26 November. But till now no agreement has been reached between the farmer and the government on this issue. A large number of protesting farmers are stuck at many borders including Sindhu, Tikri, Palwal, Ghazipur. Due to this movement, many boundaries of Delhi are sealed.