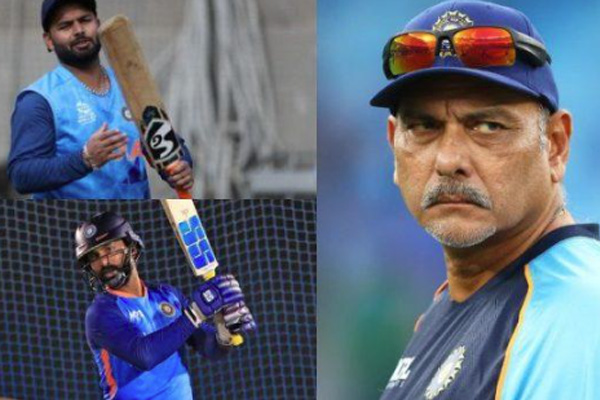 New Delhi: Former India coach Ravi Shastri has backed Rishabh Pant over Dinesh Karthik for the semi-final match against England. He called Pant the X-factor for the Men in Blue.
Team India's 'finisher' Dinesh Karthik does not have the most runs in the T20 World Cup. The right-handed batsman has scored just 14 runs in four matches at an average of 4.66. There is growing discontent among Indian fans about his place in the team due to his poor form. In the match against Zimbabwe on Sunday, Rishabh Pant was offered an opportunity to replace Karthik but the 25-year-old endured a poor outing and was dismissed cheaply for just three runs.
As Rohit Sharma and Co prepare to play against England in the semi-final on Thursday, the debate around Karthik and Pant has received a new boost. What goes in Pant's favor is the left-handed batsman who can bat in the middle order and has a good track record in Australia. Meanwhile, former India head coach Ravi Shastri backed Pant on Karthik for India's semi-final encounter against England, calling him the 'X-factor'.
"Dinesh is a lovely team player. But when it comes to the game against England or New Zealand, looking at their attack, I think you need a strong left-handed batsman who can turn it and be a match-winner and a left-hander. Shastri said, India beat Zimbabwe to top Group 2.
"He has done well against England. He recently won a match on his win against England, an ODI. I will go with Pant, not just because he plays here, but because of the X-factor angle he can bring for the semi-finals."
Elaborating further, Shastri spoke about the playing conditions at the Adelaide Oval, where the semi-finals will be played and mentioned Pant's ability to take advantage of short boundaries in place.
"You are playing in Adelaide, short boundary square, there is another reason why there has to be a left-hander to interrupt England's attack. If you have a lot of right-handed players, there's a sense of commonality to it. England have a decent attack, a varied attack from left-handers and right-handers.
"You need a left-handed batsman in your team, who can be dangerous and win you a game in the last overs, even if you have lost 3 or 4 wickets at the top," Shastri concluded.
(with agency input)