29/01/2021
RLD leader Jayant Chaudhary; Government should listen to the voice of farmers
New Delhi: The uproar over the three new agricultural laws of the central government is not seen to stop. After the raid on 26 January, it was felt that the farmers' strike would end. But after the tears of Tikait, the movement came to a standstill again. Let us tell you that a large number of police and security forces were stationed on Ghazipur Border throughout the day on Thursday and it seemed that the picket would be evacuated. But the police had to return late at night.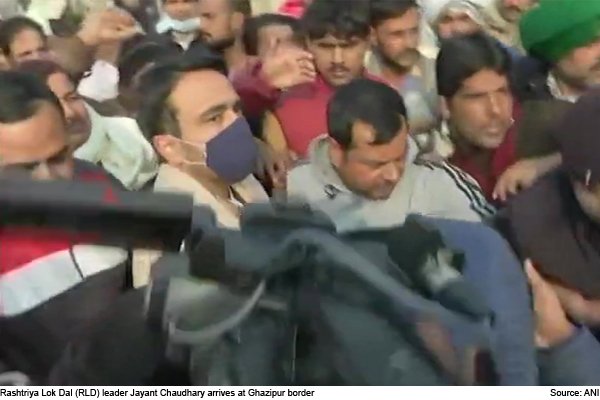 Hundreds of farmers from western Uttar Pradesh reached the picket on Thursday night at the Ghazipur border and protests are still going on. Meanwhile, Rashtriya Lok Dal (RLD) leader Jayant Chaudhary reached the picket this morning to meet Rakesh Tikait and other farmers.
RLD leader Jayant Chaudhary said on the Ghazipur border that the government should listen to the voice of the farmers and accept their demands. Today is the first day of the budget session of the Parliament and this issue should also arise within the Parliament. If the government retreats, it will not reflect their weakness. The Prime Minister speaks on all subjects, also speak about the farmer.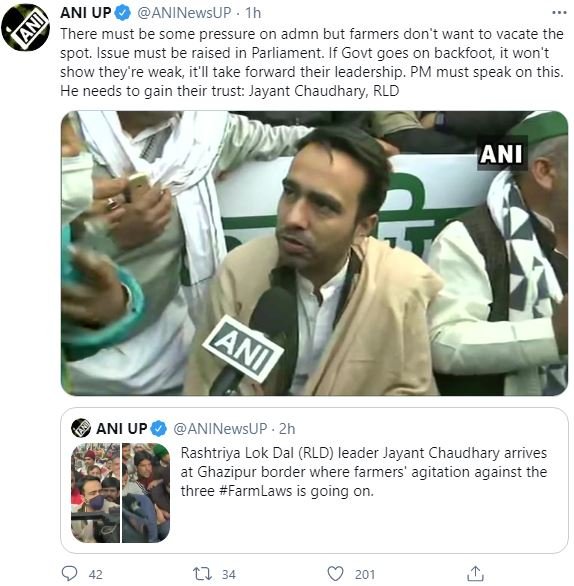 Jayant Chaudhary while speaking to news agency ANI said, "There should be some pressure on the administration, but the farmers do not want to vacate the picket. This issue should be raised in Parliament. If the government goes on the back foot, it will not show its weakness, rather it will take its leadership forward. PM should speak on it. They need to gain their trust. "
Jayant Chaudhary said that he stands with the farmers and will always stand. The farmer is the provider of the country. The government cannot suppress the voice of farmers by using force.
At the same time, Rakesh Tikait, national spokesperson of Bharatiya Kisan Union, we will not vacate the protest venue, we will first talk to the Government of India on our issues. Only then will the decision be taken. I urge people to keep the peace.
On the other hand, Satnam Singh Pannu, chairman of the Kisan Mazdoor Sangharsh Samiti, who stood on the Singhu border, also said that whatever the government does, we will not leave the Singhu border. We will not leave here until the law is repealed and the new law.