13/02/2021
Rohit and Rahane overcome team India, India 300 runs for 6 wickets
New Delhi: In the second Test match between India and England at the M Chidambaram Stadium in Chennai, India have come into a strong position by scoring 300 runs for 6 wickets on the first day. Kohli decided to bat first after winning the toss.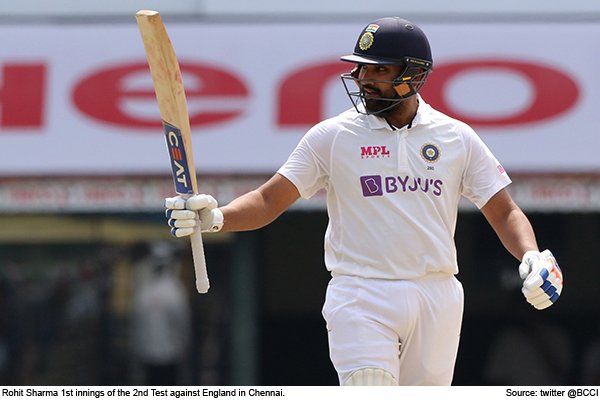 Rohit Sharma returned from this match with a century and hit a brilliant century. This is the seventh century of his Test career. He hit 18 fours and 2 skyscraper sixes, playing 231 balls and was dismissed for 161 runs.
India's debut on the first day against England in the second Test was very poor. In-form star batsman Shubman Gill from Australia was lbw on the first ball and could not even open his account in this match. Cheteshwar Pujara, who came after him, also could not do anything special and was dismissed by 21 runs. After this, Captain Kohli came down to play, but on the first ball, he was also clean bowled by Moin Ali. However, Moin's ball turned very much and Kohli could not understand where the ball got into the wickets.
At one time India got into trouble when its 3 important wickets fell for 86 runs. But the vice-captain Ajikya Rahane, who came after this, took the front with Rohit and raised his team from crisis. There was a partnership of 160 runs between the two. Rohit Sharma was out for 161 off Jack Leach. Shortly after, India got another blow, when Rahane, who was batting well, also got bowled by Moin Ali's ball. Ravichandran Ashwin too could not stay long today and was dismissed by 13 runs. Rishabh Pant (33) and Akshar Patel (5) are at the crease.