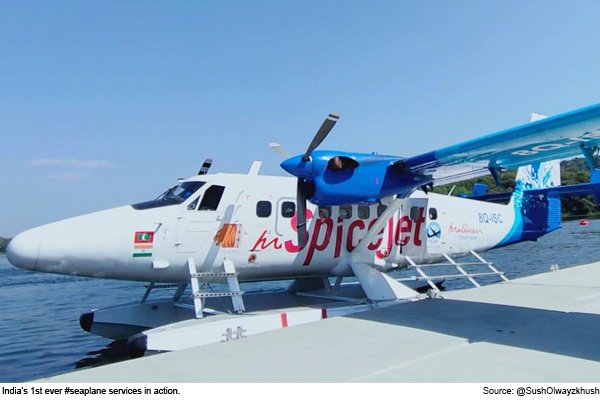 New Delhi: Prime Minister Narendra Modi is going to start the first sea-plane service in Gujarat on the birth anniversary of Sardar Vallabhbhai Patel. The service will be available from Sabarmati Riverfront in Ahmedabad to the Statue of Unity in Kevadia. Such aircraft are capable of flying and landing from small water bodies and small runways. SpiceJet operates Sea-Plane flights. Under this, the sea-plane will fly two daily.
How much is the fare
For this half-hour flight, passengers will have to spend around 1,500 rupees from one side. The total fares of the Riverfront from Ahmedabad Riverfront to Kevadia's Statue of Unity and back to Kevadia will be Rs 3000. Online ticket booking has started from October 30. The 15-seater twin otter 300 aircraft will be used for these flights.
Where to get tickets
The country's airline company SpiceJet will operate two flights daily. These flight services will be from Ahmedabad to Kevadia route. Booking of tickets for the Sea Plane can be done from the website of www.spiceshuttle.com
What is the timing
The Sabarmati will take off from the riverfront at 10.15 am and reach Kevadia at 10.45 am. The sea-plane will return from Kevadia at 11.45 am and reach the riverfront at 12.15 pm. The Sea-Plane will again fly from the riverfront at 12.45 pm daily and reach Kevadia at 1.15 pm. From there it will fly at 3.15 pm and reach the riverfront at 3.45 pm.
SpiceJet has secured 18 seaplane routes under the UDAN which includes – Ahmedabad-Kevadia (Sabarmati River Front to Statue of Unity, Sardar Sarovar), Agatti-Minicoy, Agatti-Kavaratti among others. The new launch marks yet another successful beginning of the last mile connectivity by SpiceJet through sea plane service under the UDAN scheme.
Regions in the North East, Uttarakhand, Uttar Pradesh, Andhra Pradesh, Rajasthan, Maharashtra, Andaman, Lakshadweep and other coastal areas are a few destinations that are being evaluated for amphibious plane operations.
Also read in Hindi: भारत की पहली Seaplane सेवाएं आज से शुरू, जानिए इसके बारे में