26/10/2020
Self Reliant village of Uttarakhand, No migration, Know Why?
Dehradun: Migration continues in almost all villages in Uttarakhand. The main reason for migration is lack of employment in the state. That is why youth from villages have migrated to cities in search of jobs. The condition is that many villages have become completely empty, if there are any, then the old parents, who hope that they will return to our village once again. According to the BBC, there is a village in Uttarakhand where even today no one is willing to flee. Yes, because the villagers have found a means of employment in their village itself and they never felt the need to go elsewhere.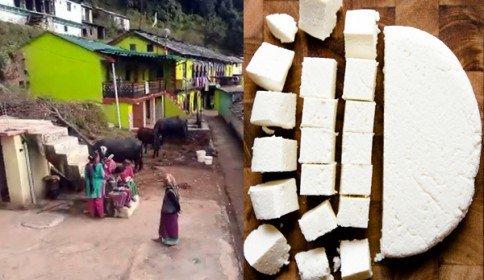 Bailey village of Rautu in Jaunpur development block of Tehri district, about 20 km from Mussoorie, is famous as 'Paneer Village' in Uttarakhand. There are 250 families living in this village with a population of about 1500 people and all the families of the village carry on the business of cheese. The special thing is that these people make paneer in their homes, so the quality of this cheese is very good and its demand is also high.
Another special thing about this village is that a new ritual has also been developed here. Whenever a new daughter-in-law comes to this village, she is first taught how to make paneer. That is, the new daughter-in-law also specializes in making cheese and then she too gets involved with the whole house in making cheese.
According to the information, Kunwar Singh Panwar, former block chief of Rautu's Bailey village, first started making cheese in this village in 1980. Kunwar Singh says, "In 1980, cheese was sold here for Rs. 5 per kg. At that time, cheese was sent from here to some big schools in Mussoorie. There was a lot of demand for it. "
According to him, vehicles started plying in this area in 1975-76, when paneer was sent to Mussoorie and kept in buses and jeeps from here. Paneer was not sold here in the surrounding areas, because people did not know much about cheese. Even they did not know that cheese made vegetable.
Pure cheese reached Dehradun
Kunwar Singh said, "After the formation of the state of Uttarakhand in 2003, there was a road connecting this village to Uttarkashi district, due to which the people here benefited immensely. Due to the formation of the road leading to Uttarkashi, the number of people going to Dehradun and Uttarkashi through this village has increased. "Since then, the cheese here has become more popular than before. People coming and going from this road often started buying cheese from here. Due to non-adulteration and cheapness of Rautu's Beli village cheese, people from Dehradun started buying it. "
Least escape
Kunwar Singh says that if compared to the rest of Uttarakhand, this is the first village in Tehri district with the least migration. Some 40–50 youth had migrated out of the village to work, but they also returned home during the Corona epidemic.
The biggest reason for low migration in the village is that people here do cheese work for their livelihood. People also do some farming, due to which there is no need to flee.
Hard work is making cheese
Kunwar Singh explains that it is very difficult to make cheese on the mountain. Here if someone has a buffalo, if the buffalo is completely new, then he has to raise it all year round. There is no fodder for buffalo near the village. To get fodder, the daughter-in-law of the village has to go to the distant mountains, sometimes there is a shortage of fodder, for which we have to go far to other villages.
Demand from government
There is a demand from the government of the villagers to arrange a loan to buy the buffalo and if the fodder becomes available for free or on subsidy then people can get some relief here.