25/01/2021
Shikhar Dhawan in trouble with government for feeding birds, action on sailor too
New Delhi: Cricketer Shikhar Dhawan shared a picture of himself on social media while feeding birds in a boat ride in Uttar Pradesh's Varanasi. His post has put the sailor in trouble. The city administration has said that the boatman will be fined, as there are restrictions on feeding poultry to birds in times of bird flu. Now its carriage has fallen on the sailor.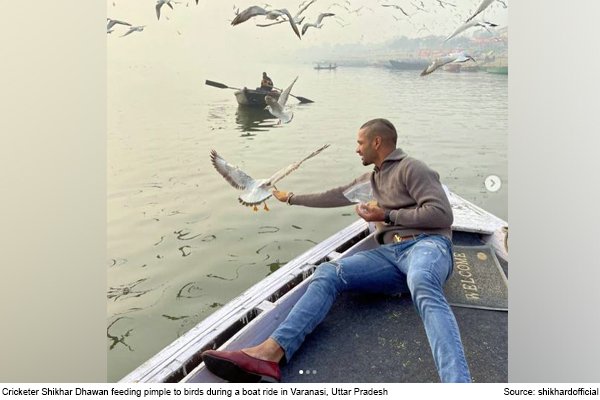 Sharing photos of the boat ride on Instagram, Shikhar Dhawan commented, "It was a pleasure to feed the birds."
But the administration did not sit silent on his happiness. District Magistrate of Varanasi Kaushal Raj Sharma said that action can be taken in this matter. After investigation, Dashashwamedh police has invoiced the sailor Pradeep Sahni and boat driver Sonu under section 188. Also, taking concrete steps, they have banned their boat for 3 days.
Varanasi district magistrate Kaushal Raj Sharma quoted news agency ANI as saying that action would be taken against the sailors who did not follow the administration's guidelines and allowed tourists to feed birds on their boats amidst bird flu. He also clarified that tourists – in this case Shikhar Dhawan – would not face any action.
Sharma told the news agency ANI, "There was some information that some sailors are not following the instructions of the administration and tourists are feeding birds on their boats. Therefore, these sailors are being identified and tourists are usually not aware of such things. "
After Team India's stunning series win over Australia, Shikhar Dhawan made a spiritual visit to the holy city last week and visited Kashi Vishwanath Temple and Kal Bhairav ​​Temple.
During his visit to Varanasi, Shikhar Dhawan attended the Ganga Aarti and also saw Baba Vishwanath. He has shared the video of this on his Instagram account.