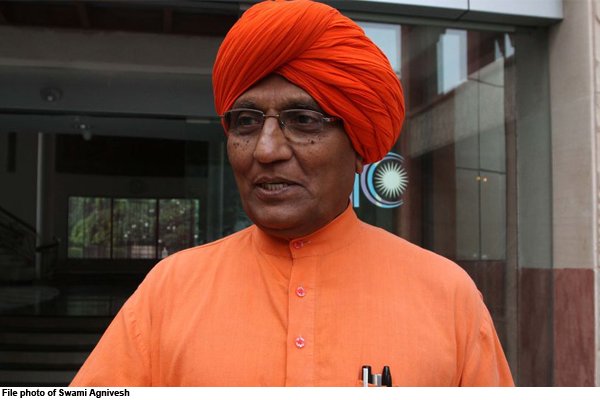 New Delhi: Social activist and Arya Samaj leader Swami Agnivesh passed away on Friday. He was suffering from liver cirrhosis due to multiple failure and was put on ventilatory support from Tuesday. He was 80.
"His condition deteriorated today and he went into cardiac arrest at 6:00 am. Resuscitation was attempted, but the stalwart died at 6:30 pm, "The Institute of Liver and Biliary Sciences, New Delhi said in a statement, where he was admitted.
Born in Andhra Pradesh to a Brahmin couple, Swami Agnivesh disguised as a monk, renounced his name, caste, religion, family and all his belongings.
He is widely known for his campaign against bonded labor through the Bonded Mukti Morcha (Bonded Labor Liberation Front). His public work inspired him to enter active politics.
He was elected to the Haryana Legislative Assembly in 1977 and was made the Minister of Education two years later. However, he resigned from the post in protest against inaction against the police by the Haryana government, who opened fire on workers protesting bonded wages.
Swami Agnivesh led several initiatives to promote peace and internecine harmony in Kashmir at the height of extremism, his website notes. In 2010, he was tasked by the Congress government to open a dialogue with the Maoist leadership. A year later he was part of the anti-corruption movement led by Anna Hazare. He was allegedly forced to break away from the group after a video surfaced in which he was shown talking to a minister in the Congress government. It was around this time that Swami Agnivesh appeared as a guest on the reality TV show Bigg Boss.
Swami Agnivesh, who was the chairman of the World Council of Arya Samaj till 2014, had also angered Hindu groups for his remarks on the Amarnath temple in Jammu and Kashmir. Agnivesh alleged that Lord Shiva insulted him by saying that the snow stalk was not of any religious significance.
In 2018, he was attacked by protesters allegedly associated with BJP's youth wing in Jharkhand. In the video of the attack, the protesters called Agnivesh to "go back", calling him a "Pakistani agent".
A month later, Agnivesh was attacked at Deen Dayal Upadhyay Marg in New Delhi during paying attribute to former Prime Minister Atal Bihari Vajpayee.
Also read in Hindi: जाने-माने सामाजिक कार्यकर्ता स्वामी अग्निवेश का निधन