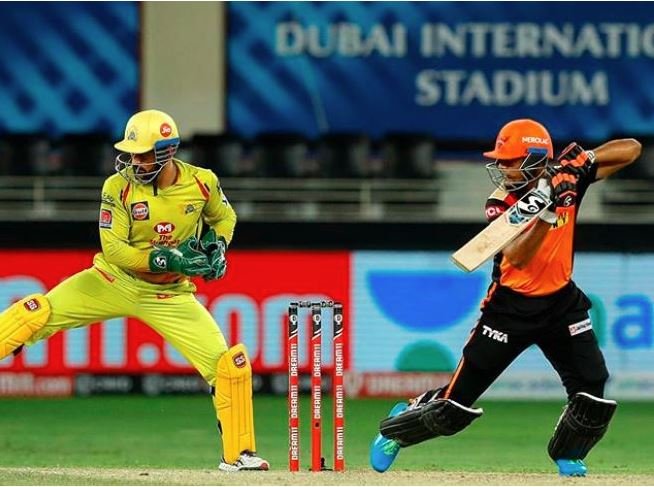 New Delhi: Hyderabad won the toss and decided to bat first in the match between Chennai Super Kings vs Sunrisers Hyderabad in Dubai. Batting first, scored 164 runs in 20 overs. Chennai got a target of 165. But due to good bowling and fielding of Hyderabad, Chennai could only manage 157 runs for 5 wickets in 20 overs and lost the match by 7 runs. With this victory, Sunrisers Hyderabad reached fourth position in the points table.
Priyam Garg played a brilliant innings of 51 off 26 balls for Sunrisers Hyderabad. Abhishek Sharma also contributed well and scored 31 runs off 24 balls. Hyderabad scored 164 runs on the basis of their performance.
Chennai started poorly and their 4 batsmen were dismissed for just 44 runs. After this, Dhoni and Jadeja took the front. Jadeja played a brilliant innings of 50 runs in 35 balls, but he was dismissed as soon as he scored 50 runs. After that, Dhoni single-handedly took over. He scored 47 runs in 36 balls and remained at the crease till the end. But could not win his team. His 47-run innings saw the effect of age on him and he looked tired in such a short innings.
Also read in Hindi: SRH vs CSK: सनराइजर्स ने धोया धोनी के धुरंधरों को, 7 रन से मैच जीता