In Tretayuga Shri Ramji, the seventh incarnation of Srivishnu, was born in Pushya Nakshatrapar, Ayodhya in the mid-day. It was that day, Chaitra Shukla Navami. Since then Sri Ramnavami, the birth anniversary of Shri Ramji, is celebrated. Generally, the festival of Sriramanavami is celebrated in various ways at different places. Some celebrate it in public, sometimes on a personal level, and sometimes in family.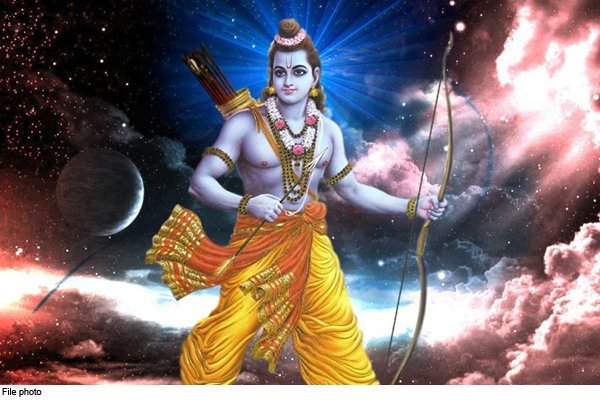 The life of Prabhu Shriram gives the message of how to live in every situation to all of us. Adhering to all the limitations of religion i.e. 'Maryada-Purushottam', ideal son, ideal brother, ideal husband, ideal friend, ideal king, ideal enemy has been ideal on all such levels, Lord Shri Ram! Even today, the ideal state is given the likeness of Ram Rajya. In this article compiled by Sanatan Sanstha, we will know the history and importance of Sri Ramanavami, the method of celebrating this and the importance of Ram Naam. There can be limitations in celebrating the festival like always. In this article, we will also understand how to celebrate Ram Navami even in the exile (traffic closure) of Corona's crisis. Ram Ram Navami will be worshiped and chanted and will resolve to establish Ram Rajya!
Date
Chaitra Shukla Navami is called 'Sriramanavami'. Sri Ramanavami is celebrated to commemorate the birth of Shri Ram.
History
On this day, when Pushya Nakshatrapar, at the time of Madhyahna, there were five planets in Cancer ascendant, then Lord Sri Ram was born in Ayodhya.
Sriramanavami's spiritual significance
On the birth anniversary of any deity and avatars, their substance is employed in greater quantity on the earth. Sriramavatattva is employed 1000 times compared to other days on Sriramanavami. Shri Ram Jai Ram Jai Jai Ram on Shriram Navami, chanting and devotional worship of Shri Ram gives maximum benefit to Shri Ramatattva.
Chanting of Lord Shri Ram
'Shriram Jai Ram Jai Jai Ram.': Some of the popular chants of Shriram are. Among them 'Sri Ram Jai Ram Jai Jai Ram.' This Trayodashakshari chanting is the most prevalent. Shriram Jai Ram Jayjay Ram. In this 'Shriram' this is Shrirama's call. 'Jai Ram' is this eulogy. 'Jai Jai Ram' This is a viewer of 'Namah' similar refuge. We have all heard the story of 'Ram se bada ram ka naam' in Ramayana. Everyone knows that stones written 'Sriram' also floated on the sea. Similarly by chanting Shri Ram, our life will also be free from this world.
Method of celebrating Sriramanavami
To get maximum benefit of Shriramatattva, worship the idol of Shri Ram in worship, hymn and chant. Worship the idol of Shri Ram in the form of hexoderm. If it is not possible to worship Shodashopchar, then worship with Panchopchar method.
Rituals and rituals of Shriram's idol
There is a special prasad made of Saunth along with the content of daily puja for the worship of Sriramanavami. Saunth means powder of dried ginger and powdered sugar and dried coconut powder is added to the mixture as a prasad.
When starting the pooja vidhi, do the first fire. Now do pranayama. State and make a resolution for worship. Now do sandalwood tilak. Dedicate now. Then offer flowers and basil. Now offer a wreath. Now show incense sticks. Now show the lamp. Now dedicate naivedya. After worshiping in this way, perform aarti, mantrapush, parikrama and salutation.
Celebrate Ramnavmi in the form of a crisis (traffic closure) of Corona!
Many devotees visit Ram temple on Ram Navami and take darshan at Ram temple. This time, religious places are closed due to the closure of traffic on the Corona background in many places. It is not possible to visit temples in such restricted places. Therefore, for the sake of Ramnavami, worship Lord Rama in the house.
It is said that chanting is the best practice of Kali Yuga. Therefore, try to chant 'Sri Ram Jai Ram Jai Jai Ram' as much and spiritually as possible on Ramnavami. Members of the household can chant and do Rama Rakshapathan at home.
In some places it is customary to celebrate Ram Janmotsava in the house. At such times, Panchakopachar or Shodashopachara worship of Madhyamakaal Ramji. If a statue or idol (picture) of Rama is not available for worship, any scripture or nameplate containing a picture of Rama can be placed on the front page. If that too is not possible, then write this name 'Sri Ram Jai Ram Jai Jai Ram' from the rangoli on the floor and worship it. The principle of spirituality is that words, touches, forms, juices, smells and their respective powers converge. According to that the element which is in the idol of Shriram, is also in the same word i.e. in the chanting of Shriram.
If there is any difficulty in getting the necessary materials for the worship, then worship Ram to God in the available worship materials and do Ram Janmān. If worship material is not available, then instead of dedicating it. If it is not possible to eat dry ginger, then offer any other sweet food.
Corona has created an emergency situation. The life of the common people has become difficult. Inadequate medical facilities add to the suffering. Overall, everyone's life is 'Rambhrosse'. Many people are expressing this sentiment of 'Rambharose', even then the Lord is really shifting to the devotee, so now at least he will give his full weight in reverence to the Lord at the feet of Shri Ram and dedicate the spiritual practice for Sri Ramanavami. Will decide to do.
Ramnavami will resolve to establish Ramrajya!
Praja Dharmacharani was in Ramrajya; That is why he got a sattvik ruler like Shri Ram and could enjoy the ideal Ramrajya. With this, we will also become devout and devout of God, then Ram Rajya (religious Hindu nation) will still incarnate as before!
Maryada Purushottam means Prabhu Shri Ram, who takes charge of the ideal state with regular religious and religious state work. To endow the life of the people; There was no place for crime, corruption, etc. Such was the fame of Ramrajya. Such an ideal state (Hindu nation) would determine (definite) the establishment.