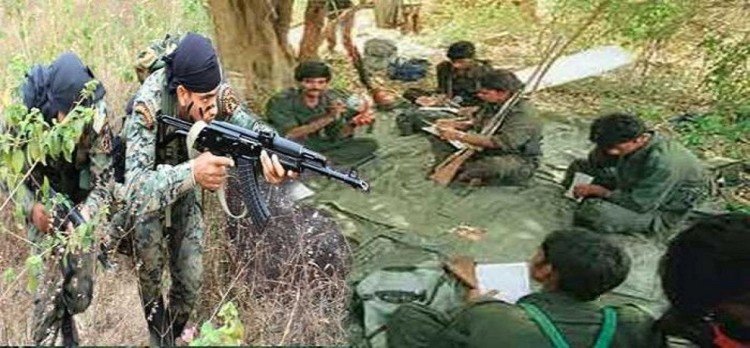 WRITTEN BY DANTESHWAR KUMAR
Jagdalpur: A joint team of DRG / STF and COBRA left for patrol search on Tuesday on information of Naxalite activity under police station area of ​​Sukma district of Chhattisgarh. During this time, the police party which went on a search in the forest of village Antapad came near the camp of the Naxalites and indiscriminate firing by the Naxals.
The police team also retaliated, but managed to escape with the Naxalites under the cover of dense forest. On investigation at the spot after firing, 1 binocular, 2 big pits, 18 electric detonators, 30 m electric wire, cordex wire, tent palithin, cracker, clothes, utensils, rope, naxalite literature and other daily useful materials were recovered. .
During the investigation of the documents recovered in the said encounter, it was revealed that the Maoists had a lot of difficulty in the supply of goods during the lockdown. In many places, Naxalites faced problems in eating and drinking.
Let me tell you that on March 21, 17 police personnel were killed in an encounter in the forest of Minapa. In the press release issued by the Maoists of the said incident, 3 Maoists of Battalion No.1 were killed in the encounter. But according to the seized documents, a total of 12 militants of Jagrgunda Area Committee and 11 of Western Area Committee and Maoist cadres have been killed. Further information in this regard is being collected by Sukma Police.
It is noteworthy that in the press release issued by the CPI Maoist in Naxal Martyrdom Week, information has been sent about the death of a total of 52 Maoists in various police-Naxalite encounters in the year 2019-20. The Inspector General of Police, Bastar Range, Sundarraj P., has told that effective anti-Naxal operations will continue in the Naxal-affected areas under Bastar Division and that the general public will be constantly dedicated and working towards liberation from Naxal violence.
Also read in Hindi: सुकमा STF-Naxali मुठभेड़ में मिले दस्तावेजों से हुए कई अहम खुलासे