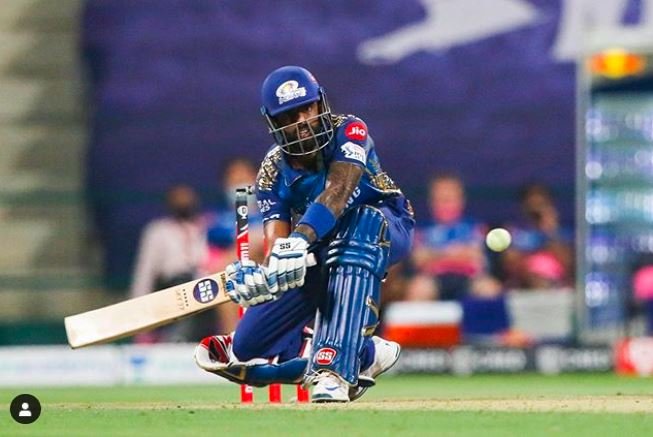 New Delhi: The 20th match of the Indian Premier League (IPL) is being played between Mumbai Indians and Rajasthan Royals in Abu Dhabi. Mumbai Indians won the toss and scored 193 runs, losing 4 wickets in 20 overs, and set a target of 194 runs to win in front of Rajasthan Royals. However, Rajasthan had a poor start and could not manage until the end and were bowled out for 136 in 18.1 overs. Mumbai won the match by 57 runs. With this victory, Mumbai entered the top point in the points table.
Earlier, Mumbai Indians batted and scored 193 runs, with Quinton Decc and Mumbai captain Rohit Sharma giving their team a good start. DeCock could not last long and was dismissed for 23 runs. But, Rohit Shama scored 35 runs on 23 balls with 2 fours and 3 sixes. Surya Kumar Yadav played a brilliant innings and contributed a significant 79 off 47 balls with 11 fours and 2 sixes. Hardik Pandaya also opened his hands. He scored 30 runs in the last over with the help of 2 balls and 1 six in 19 balls to take Mumbai to a respectable score. Shreyas Gopal bowled economically for Rajasthan and took 2 wickets for 28 runs in 4 overs.
On the other hand, Rajasthan Royals had a very poor start and at opening, Yashasvi Jaswal returned to the pavilion without opening an account. On behalf of Rajasthan took the front in Jos Butler. At the same time, there were only such batsmen who tried their best to save the sinking Rajasthan. He scored 70 runs with just 4 balls and 5 huge sixes in 44 balls. Rajasthan captain Steve Smith also failed to do anything special and was dismissed for 6 runs. Jose Butler retained one end, but none of the Rajasthan batsmen supported him. As soon as he was out, the team of Rajathan Royals collapsed like a card. His team could not play even the full 20 overs and was bowled out for 136 runs.
The bowling and shooting of Mumbai was very tremendous. Jasprit Bumrah did great bowling. He spent only 20 runs in 4 overs and showed the 4 main batsmen of Rajasthan the path of the pavilion. Bolt and Pattison took 2–2 wickets. Rahul Chahar and Pollard took 1-1 wickets.