29/01/2021
Tears of Tikait regained the sympathy of farmers, farmers joined for the protest again
New Delhi: Demonstration of farmers against agricultural laws continues on the borders of Delhi, the capital of the country. After the 26th January uproar, it was felt that the Kisan Movement was towards an end, but after the flood of farmer leader Rakesh Tikait, the Kisan movement has gained momentum once again.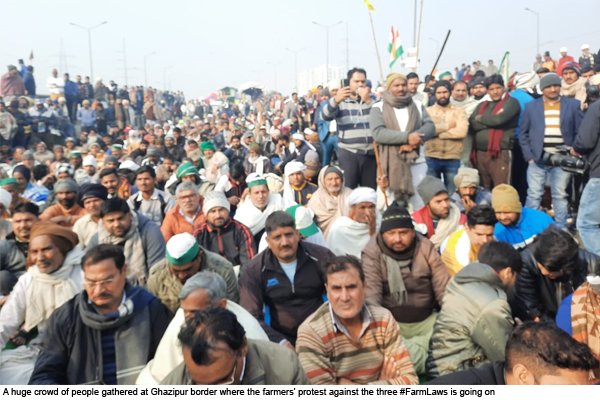 Farmers from different places in western UP and Haryana have started gathering at the Ghazipur border. At the same time, the Ghazipur border has been closed on both sides. Please tell that today there will be a mahapanchayat of farmers in Muzaffarnagar.
Indian Farmers Union (BKU) spokesperson Rakesh Tikait while talking to news agency ANI on the Ghazipur border said, "We will not vacate this place." We will talk to the Government of India about our issues. I urge people to be peaceful. "
Let us tell you that the sight of the Ghazipur border was such that those who returned to their village during the day, were upset and heartbroken to see their leader and they have again reached back to the dharna. The deployment of the police party and the security force was seen to be very low due to the increasing number of farmers.
There was a bit of desperation and fear among the farmers around 5 pm on the Ghazipur border. Electricity and water had already been cut by the administration. Most of the farmers from above started returning to their homes. But after 7 o'clock the scene of the picket itself changed. The farmers who had gone to their homes started returning again. Tikait's tears and the threat of suicide worked and the agitation of the farmers kept on coming to an end.
A large police force was stationed at the Ghazipur border in the evening. Leaders were also saying from the stage that it seemed that the police could forcefully remove them at any moment. Rakesh Tikait himself told the forum several times that even if he is arrested, the movement should not stop. Meanwhile, officials of the Ghaziabad district administration and police reached the stage. There was a brief talk and the atmosphere changed.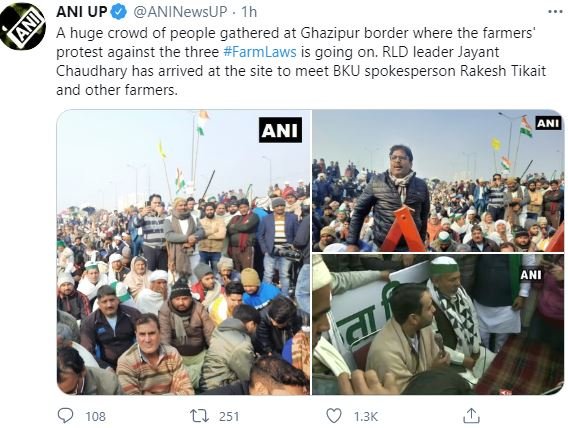 Rakesh Tikait said that he would not surrender as several vehicles near the assembly were roaming near the picket. He said that some BJP MLAs are conspiring. If they surrender, then anything can happen to the farmers involved in the movement. They will not leave them. Now whether the bullet goes or the poles will not go from here.
When the ADM notice of Ghaziabad came back after giving notice, it was feared that now the police would take action, but in the meantime, Rakesh Tikait became emotional while talking to the media. The videos of his flowing tears went viral on TV and social media. Rakesh Tikait's brother Naresh Tikait announced from the village of Tikait that the movement would continue in Ghazipur.