New Delhi: The Border Security Force (BSF) is continuously destroying the nefarious plans of Pakistan. Recently, during an operation by the Border Security Forces, Pakistan had penetrated about 200 meters and found a tunnel. The Border Security Force found strong evidence that four Jaish-e-Mohammed (JeM) militants killed in the Nagrota encounter on November 19 had entered Jammu and Kashmir through this 200-meter-long tunnel. A top government official said this on Tuesday.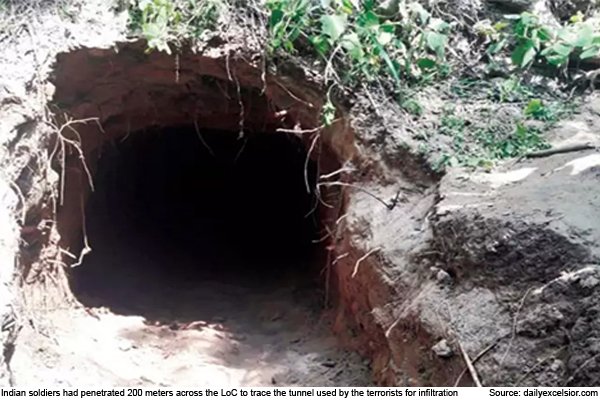 It has been reported by a top military officer that the militants had professionally built a 200-meter-long and 8-meter-deep professional tunnel through which they entered the Indian border from the international border.
The site of the tunnel was 12–14 inches in diameter at the Indian border, about 160 meters long from the international border and it is estimated that it was about 40 meters long at the Pakistani border. According to top security officials, the tunnel was dug up anew and was used for the first time by four Jaish suicide bombers. The counter-terrorism official said a reasonable engineering effort seems to have been made to construct the tunnel.
A top BSF official said that the security forces had gone inside Pakistan for about 200 meters which was the starting point of the tunnel. Which was used by the terrorists last week.
On November 22 in the Samba sector of Jammu and Kashmir, a 200-meter-long underground tunnel used for infiltration by militants was detected near the international border.
In the third week of November, security forces recovered mobile phones from the occupation of the slain militants. Which helped the security forces to locate a tunnel. Suranga was detected on the basis of a call from the terrorists.
Rakesh Asthana, Director General of the Border Security Force, spoke about a special operation on the occasion of Foundation Day on Tuesday and said that the tunnel was detected on November 22 based on the analysis of mobile phones from terrorists killed by the security forces. The terrorists were planning to infiltrate the Samba sector through this tunnel. Rakesh Asthana said this on the occasion of the foundation day of BSF.