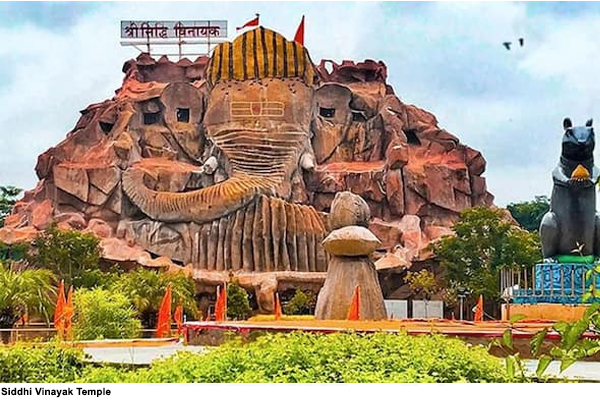 The largest temple of the first revered Lord Ganesha is located on the banks of the Vatrak river in the city of Mehmedabad, about 25 km from Ahmedabad in Gujarat. This temple has also been named Siddhi Vinayak after the Siddhi Vinayak temple of Mumbai. Because the flame brought from Siddhi Vinayak Temple in Mumbai has been established in this temple.
This huge and grand temple with the shape of Ganpati ji is said to be the largest temple in the country. The height of the temple is about 71 feet. On the fourth floor of the temple, an idol like the idol of Ganesh installed in Siddhi Vinayak Temple in Mumbai has been installed. Apart from this, replicas of Ganeshi idols installed in ten countries around the world are also displayed here.
Ganesh idol at a height of 56 feet from the ground
A special hall has been built on the second floor for performing bhajans and kirtans in the temple. Interestingly, the temple is built at a height of 20 feet from the ground. At the same time, the idol of Ganesh ji has been established at a height of 56 feet from the ground. On the day of Ganesh Chaturthi, devotees from far and wide come to the temple for darshan and worship. It is believed that by worshiping Lord Ganesha here, they fulfill their wishes.
Australian Technology Design, Rivet Software
The temple has been constructed in the form of a large replica of the idol of Lord Ganesha in an area of ​​about six lakh square feet. Along with this, amazing crafts and architecture have been displayed in this grand temple. This temple is about 120 feet long and 71 feet high. Its width is 80 feet. Special techniques have been used in the temple, including Australian techniques. Under this, Rivet software has been used.