19/01/2021
The government of India strengthened the capacity of Iran's Chabahar port for loading and unloading
New Delhi: India has sent a consignment of two Mobile Harbor Cranes (MHC) to the Chabahar port of Iran. The consignment is sent under a contract agreement for the supply of 6 Mobile Harbor Cranes (MHC), with a total contract value of over US $ 25 million.
The consignment of cranes arriving from the Margrahera port of Italy was successfully unloaded at the Chabahar port on January 18, 2021, and these cranes are currently under trial.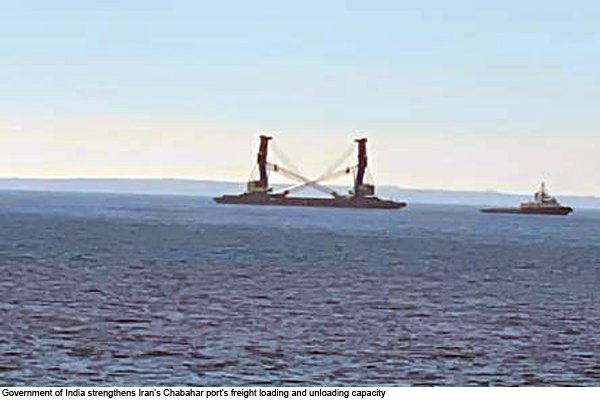 Multipurpose equipment and accessories such as mobile harbor cranes (MHC) equipped with a carrying capacity of 140 metric tons will enable Bharat Ports Global Limited (IPGL) to provide uninterrupted services of the container, bulk, and general cargo at Shahid Beheshti port in Chabahar.
This is a step towards India's commitment to the development of the infrastructure of Shaheed Beheshti Port of Chabahar.
A bilateral contract between the Iranian Islamic Republic and the Republic of India was signed on 23 May 2016 with the aim of furnishing, mechanizing, and commencing operations at Shaheed Beheshti port under Chabahar Development Phase-I, whose total contract value Was US $ 85 million. To fulfill this ambitious objective, India Ports Global Limited (IPGL), an SPV named Mumbai, was included under the purview of the Ministry of Ports, Shipping, and Waterways.
Union Port, Shipping and Waterways Minister (Independent Charge) Mansukh Mandavia said that Chabahar port is a strategic port that has national importance. The consignment supply of heavy equipment, including cranes, reflects India's commitment to the Chabahar port project of strategic importance, which will provide access to markets in Central Asia. The development of the Chabahar Port is an important step towards expanding economic and mutual relations between India and Iran and will further promote maritime trade between the two countries.
The Chabahar port is of strategic importance in terms of geographical location and has tremendous potential to provide connectivity and increase trade between India, Iran, Afghanistan, Uzbekistan, and other CIS countries, particularly the Eastern CIS countries.