23/05/2021
The second wave of corona virus killed 420 doctors, including 100 in Delhi, data released by IMA
New Delhi: The second wave of Corona virus epidemic has engulfed the nation. Although the cases of corona virus have decreased since a few days, the rising figures of deaths have increased the concern of the people.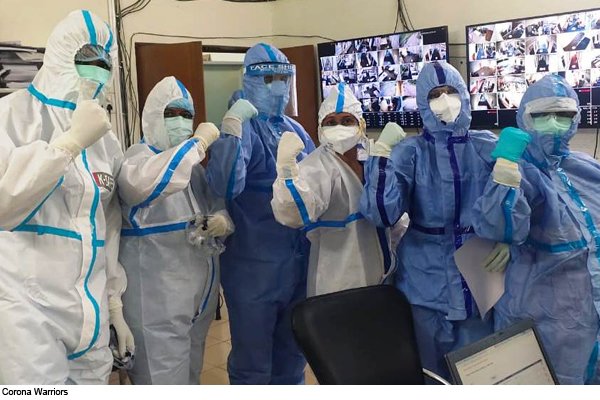 The most worrying thing is that in the second wave of Corona Virus, hundreds of doctors also fell victim to it. The Indian Medical Association (IMA) said that 420 doctors including 100 in Delhi succumbed to the second wave of epidemic due to corono virus infection, which has created an atmosphere of fear among health workers in hospitals.
The news agency ANI quoted the Doctors' Association as saying that at least 96 doctors have died in Bihar and 41 in Uttar Pradesh. Earlier this week, the top medical body reported that 270 doctors have died due to the corono virus. These included former IMA President Dr. KK Aggarwal, who died of the deadly virus on Monday. He was 65.
The IMA said in an official statement on its Twitter account that Dr. Aggarwal, who took both the vaccine supplements, died at 11.30 pm on Monday after a long fight with Kovid.
According to IMA's Kovid-19 data, 748 doctors died due to the disease in the first wave of the epidemic.
"The second wave of the epidemic is proving to be extremely deadly for everyone, and especially for the leading health workers," said IMA President Dr JA Jayalal at the beginning of the week.
On Friday, Prime Minister Narendra Modi became emotional talking about those who lost their lives with the virus. He thanked doctors and frontline workers during a video conference with health workers in his parliamentary constituency Varanasi in Uttar Pradesh. Meanwhile, PM Modi said, "In the second wave of Corona, we are fighting on many fronts simultaneously. The rate of infection is also very high and patients are in the hospital for a long time. "
Corona continues to wreak havoc across the country
Please tell that in India today (on Saturday), more than two and a half lakh cases of corona were reported. The Union Health Ministry today informed that 2,57,299 fresh Covid-19 infection cases were reported in the country in the last 24 hours and there were 4,194 deaths due to this deadly disease. However, 3,57,630 corona-infected people also recovered during this period.
Significantly, a total of 2,62,89,290 cases of corona have been reported so far in India, while 2,30,70,365 have been recovered from infected Kovid. While 2,95,525 people died due to the virus. Corona currently has 29,23,400 active cases in India.
Let us know that the vaccination drive in India is also going on fast. A total of 19,33,72,819 people have been given vaccine doses so far.
(With agency inputs)