07/01/2021
Thousands of farmers organized 'tractor rally' around Delhi, police increased security
New Delhi: It has been almost a month and a half since farmers agitated against the agricultural laws. Today thousands of protesting farmers have started marching with their tractors from three protest sites outside Delhi.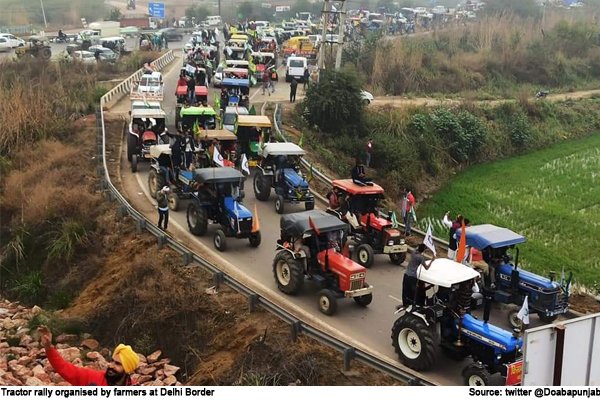 Farmer unions claim thousands of tractors are involved this March. This march is being taken from Singhu Border to Tikri, Tikri to Shahjahanpur, Ghazipur to Palwal, and Palwal to Ghazipur. In view of this, the Delhi Police has increased security in the city.
The farmers started their tractor rally on Thursday morning in rehearsals of planned protests on Republic Day to further intensify protests at the Singhu, Tikri and Ghazipur borders against the three agrarian reform laws. Joginder Singh Ugrahan, head of the Bharti Kisan Union (Ekta Ugrahan), said the farmers were participating in the march with 3,500 tractors and trolleys.
Protesting agricultural unions have warned that Thursday's tractor rally is just a 'rehearsal' of their January 26 tractor parade that will be carried out from Delhi to Haryana, Punjab, and various parts of Uttar Pradesh. Thousands of farmers started a tractor march around 11 am on Thursday and headed towards Kundalimesarpalwal Expressway amid heavy deployment of Delhi Police and Haryana Police personnel.
Traffic alert in Delhi
Meanwhile, the Delhi Police has stepped up security at the capital's borders with Haryana and Uttar Pradesh ahead of the tractor rally. The Delhi Traffic Police has advised commuters from other routes on the roadblock in the city. Traffic police said that the Chilla and Ghazipur border has been closed for traffic coming from Noida and Ghaziabad to Delhi. Please take an alternative route to Delhi via Anand Vihar, DND, Bhopura, and Loni Border. The police also said that the Tikri and Dhansa borders are also closed for traffic movement.
Talks fail, protests continue
The seventh round of talks between the opposing unions and the three union ministers came to an end on Monday as farmers' groups remained adamant on their demand to repeal the three laws, while the government called for new laws for the country's agricultural sector Listed various benefits.