New Delhi: Union Minister of State (Independent Charge) for Development of North Eastern Region (Donor), Prime Minister's Office, Minister of State for Personnel, Public Grievances, Pensions, Atomic Energy and Space, Dr. Jitendra Singh said today that Corona has brought us back to our original Indian ethos and practices.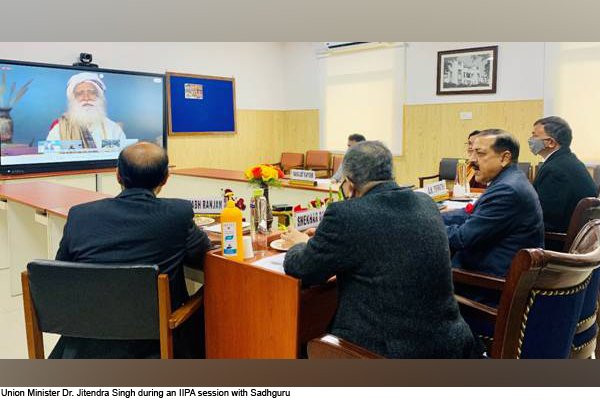 Namaste has come into vogue with renewed vigor. He said, Covid has made us aware of the importance of health as a national priority and has also made the world aware of the qualities of social distancing, cleanliness, hygiene, yoga, Ayurveda, and traditional medicine, etc. Now they are starting to believe more than before and interest has arisen again towards Yoga, Ayurveda, etc. which has always been an area of ​​importance for Prime Minister Narendra Modi. He was addressing a session with Sadhguru on 'Internal Engineering-Technologies for Welfare' at the Indian Institute of Public Administration (IIPA).
Dr. Jitendra Singh stated that especially during the lockdown period, many people resorted to yoga not only to improve their immune status but also to overcome the tortures of isolation and anxiety. He said, one consequence of the post-Covid era would be that even after the coronavirus was over, people who had become accustomed to yoga during the lockdown period would likely continue to practice it throughout their remaining lives and Thus, it will be transformed into a lifetime gift.
Dr. Jitendra Singh said that facilitating ease in the life of the common man is the ultimate goal of good governance and he strongly supported the statement of Sadhguru that happy and cheerful administrators will bring happiness in every sphere of life.
Sadhguru said in his address that India has always been a land of saints with no rigid faith system. It has never had a winning culture but has always been a land of exploration. He also said that we must maintain this ethos in order for our republic to flourish.
Sadhguru said that the coronavirus requires conscious responsible behavior and this knowledge is even more relevant for leaders and administrators to benefit the common man more.
Justice M.N. of Allahabad High Court Bhandari, Vice President of IIPA Mr. Shekhar Dutt, Director of IIPA Mr. S.N. Tripathi, Surabhi Pandey, Amitabh Ranjan, Navaljeet Kapoor and other senior officials and faculty of IIPA participated in the program.