28/12/2020
Today is the 136th Foundation Day of Congress, organized 'Tricolor Yatra' on this occasion
Today is the 136th Foundation Day of Congress, organized 'Tricolor Yatra' on this occasion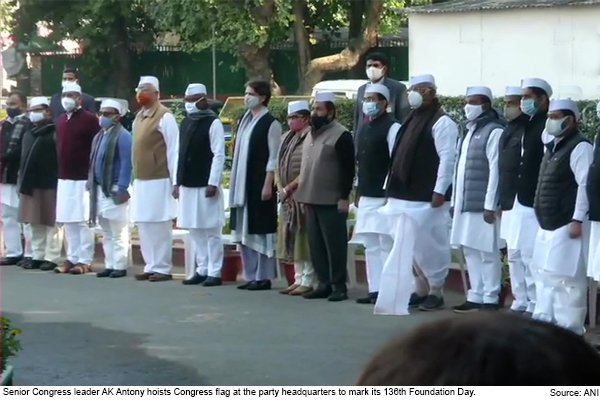 New Delhi: The Indian National Congress (INC) is celebrating its 136th Foundation Day on Monday. Members of the All India Congress Committee have instructed the party state units to organize the 'Tiranga Yatra' and conduct a social media campaign 'Selfie with Tiranga' to connect with the youth. They have also issued instructions to follow the protocol in the wake of the corona virus epidemic. The Indian National Congress, constituted on 28 December 1885, held its first session in Mumbai under the chairmanship of lawyer Umesh Chandra Banerjee from the date of that year till 31 December.
The party, which is speaking in support of the farmers agitating against the three agricultural laws on the national capital's borders, will focus on increasing solidarity with them as part of its Foundation Day celebrations. "The PCC is also requested to provide solidarity to our fighting farmers who are sitting on an indefinite strike against the agricultural laws," the release said.
However, Rahul Gandhi left for a foreign tour a day before the party's foundation day. The party says that they have gone on a personal journey. Rahul has gone on a trip abroad at a time when the farmers' movement is going on in the country on the one hand and the party's foundation day on the other. Union Minister and Madhya Pradesh Chief Minister Shivraj Singh Chauhan has taken a dig at him.
On the party's foundation day, Rahul Gandhi said that today we repeat this pledge of truth and equality. He tweeted, "Congress has been committed from the beginning to raise the voice of the nation. Today, on the foundation day of the Congress, we reiterate our pledge of truth and equality. Jai Hind!"