04/09/2021
Tokyo Paralympic: Manish and Singhraj waved India's flag in shooting, won gold and silver
New Delhi: Manish Narwal of India won the gold medal in the mixed 50m pistol SH1 shooting at the Tokyo Paralympics. In the same event, his partner Sinhraj won the silver medal.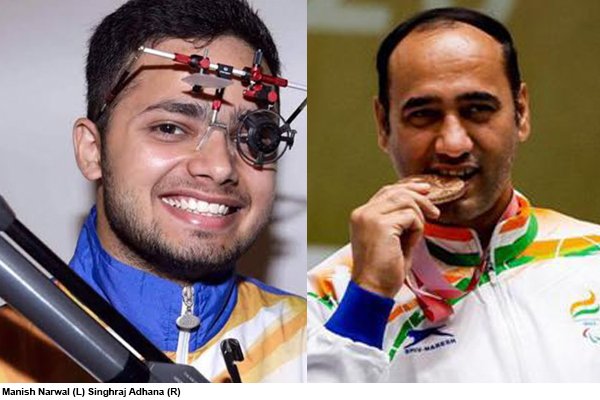 With this, India's medal tally in Tokyo Paralympics has gone up to 15 with 3 golds. While 19-year-old Manish won the gold medal with a new Paralympic record of 218.2, Singhraj won his second medal at the Tokyo Paralympics – a silver with 216.7.
39-year-old Sinhraj, who won the 10m Air Pistol SH1 bronze medal earlier this week, stunned ROC's Sergei Malyshev, who had to settle for a bronze, on Saturday. 38-year-old Sinhraj expressed his happiness after securing his second medal at the Tokyo Paralympics.
Manish Narwal, who holds the world record in the mixed 50m pistol SH1 event, put on his best performance in the final on Saturday, beating Malyshev, who was in gold medal position till the 5th series of the elimination stage. Manish scored 10.8 and 10.5 in a series and won the gold medal.
Both these shooters are residents of Faridabad city of Haryana. Manish had finished seventh in the qualification round. While Singhraj was at number four.
With Manish winning gold, India's number of gold medals in Tokyo Games has now gone up to 3. Before Manish, Avani Lakhera and Sumit Antil had won the gold medal for India. This is India's best performance so far in Paralympic Games. India has so far won 15 medals in this Olympics with a total of 3 gold, 7 silver and 5 bronze.
Prime Minister congratulated
Prime Minister of India Narendra Modi has also congratulated both these players. PM Modi congratulated these players in two separate tweets.