15/02/2021
Toolkit Case: Nikita and Shantanu absconding close to Disha, non-bailable warrant issued
New Delhi: Delhi Police after the arrest of 21-year-old climate activist Disha Ravi on Sunday on charges of spreading 'toolkit' on social media related to farmers' protests. (Delhi Police) has also started clamping down on her close friends Nikita Jakob and Shantanu. Both are absconding for fear of arrest. However, Delhi Police also did not give up and has got a non-available warrant issued against them by the court.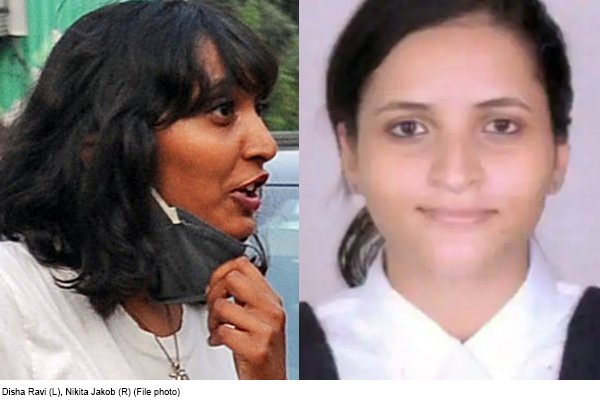 Earlier, 21-year-old Bangalore-based student and climate activist Disha Ravi was arrested on Sunday and presented in Patiala House Court on 5 days police remand for her alleged role in sharing the 'toolkit' on social media. Police have accused the activist of distributing the toolkit, which was later used by Swedish activist Greta Thunberg. However, according to reports, Disha Ravi's arrest is just beginning. Police are busy in the search for two more suspected accused in the case.
Searching for the carbs of direction
While seeking remand of Disha, the police had said in court that the cyber cell team is now also looking for Nikita Jacob and Shantanu, who are close to Disha, and non-bailable warrants have been issued against them. Disha's mobile phone and laptop have been seized. He has deleted the data of his phone, which has been sent to the forensic lab to retrieve it.
Disha Ravi is accused of adding and forwarding a few things while changing the toolkit related to farmers. When Greta Thunberg shared the toolkit, Disha Ravi warned Greta that the toolkit had gone public. Later Greta deleted it and then shared its edited version.
Police say a toolkit campaign was carried out as part of a conspiracy to incite the anti-agricultural law movement. On hearing this, the police had registered a case against the unknown under sections of sedition, making inflammatory statements with the intention of inciting a riot. Delhi Police had tweeted that Disha had prepared a toolkit with Khalistan-backed organizations and other conspirators and tweeted it further. The same toolkit was tweeted by Sweden's environmental activist Greta Thunberg and when the ruckus erupted, Disha asked her to delete the tweet.