26/01/2021
Tractor rally: Indian farmers agitators break Red Fort in Delhi and hoist Khalsa flag
Thousands of farmers who have opposed agrarian reforms have fought through police barricades and tear gas to enter Delhi's historic Red Fort complex. They were on foot and in tractors – part of a huge rally that was supposed to coincide with India's Republic Day.
Many protesters withdrew from the agreed routes and clashed with the police. A protestor has died in the tractor accident. CCTV Visuals can be seen how protestors dead while tractors rammed into barricades and overturned at ITO.
#WATCH | A protesting farmer died after a tractor rammed into barricades and overturned at ITO today: Delhi Police

CCTV Visuals: Delhi Police pic.twitter.com/nANX9USk8V

— ANI (@ANI) January 26, 2021
Delhi Police Mobile Internet services have been suspended in parts of Delhi as security forces scramble to restore order. The government is not yet commenting on the violence, but the report says that Home Minister Amit Shah held a meeting with the Delhi Police to discuss the situation.
On January 26, 2021, in front of the Red Fort in New Delhi, farmers participate in a tractor rally to protest against the recent agricultural reforms of the central government.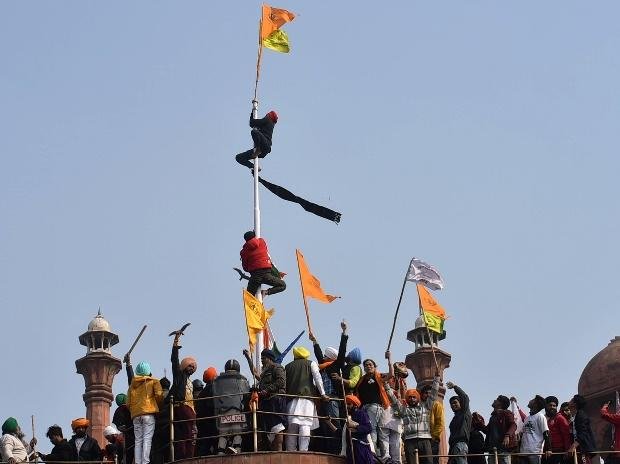 The protesting farmers broke the iconic Red Fort in Delhi. The protesters climb a dome at the ramparts of the Red Fort in Delhi. Some protesters hoisted flags at the top of the dome at the Red Fort
The government says that reforms in the protests will liberalize the agricultural sector, but farmers say they will lose income.
Thousands of them have been on strike on the outskirts of Delhi since November to demand the repeal of the law. He rejected a government proposal to put the laws on hold last week.
It is one of the longest farmers-led protests in India against the Indian Prime Minister Narendra Modi and his Bharatiya Janata Party-led (BJP) government.
The police agreed to allow Tuesday's rally after several rounds of talks on the condition that it would not disrupt the annual Republic Day parade to be held in central Delhi. He gave specific routes for his rally to the farmers, which would be mainly confined to the outskirts.
But peasants instead converted to the iconic 16th-century fort. They defied security and climbed fort walls and domes, and hoist the Khalsa flag.
By Tuesday afternoon, police said they had removed the protesting farmers from the Red Fort complex, but the situation remained tense. "We came here to deliver a message to the Modi government, our work says protesters.