31/03/2021
Under the UDAN scheme, operations started on 22 routes in 3 days, 6 routes in the Northeast
New Delhi: In order to connect the far-flung areas of the country, under the UDAN scheme, operations were started on 22 new routes in the last three days, out of which 6 routes are in East India. The first direct flight from Shillong (Meghalaya) to Agartala (Tripura) was launched today under the UDAN scheme. Earlier, flights started successfully on the Shillong (Meghalaya) -Silchar (Assam) route yesterday.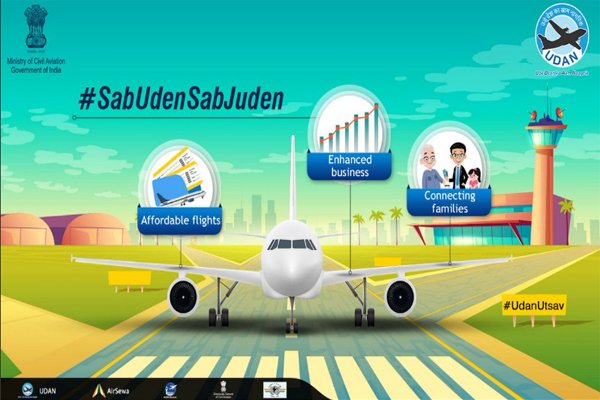 Senior officials of the Ministry of Civil Aviation and Airport Authority of India and other important stakeholders were present on the occasion. With the commencement of operations on these routes, it will be possible to provide air travel in all areas of the country, to achieve the goal of strengthening the network of air services and to provide economically viable and profitable air travel on the regional routes. Under the UDAN scheme so far, flights have been started on 347 routes across 57 airports across India where aircraft operations were very low or very low (including five heliports and two water aerodromes).
On March 28, 2021, operations on 18 new routes were started as part of the UDAN scheme. These include Gorakhpur (Uttar Pradesh) to Lucknow (Uttar Pradesh), which is a state-supported flight route, from Kurnool (Andhra Pradesh) to Bengaluru (Karnataka), Visakhapatnam (Andhra Pradesh) and Chennai (Tamil Nadu), Agra (Uttar Pradesh). Bangalore (Karnataka) and Bhopal (Madhya Pradesh), Prayagraj (Uttar Pradesh) to Bhubaneswar (Odisha) and Bhopal (Madhya Pradesh). Apart from these routes, air connectivity was also established between Dibrugarh (Assam) to Dimapur (Nagaland).
As part of the Udaan-4 tender process, last year, IndiGo Airlines was given the responsibility of operating on the Shillong-Agartala, Shillong-Silchar, Kurnool-Bengaluru, Visakhapatnam and Chennai routes.
Apart from this, the route from Agra to Bengaluru and Agra to Bhopal under Udaan-3, Prayagraj to Bhubaneswar and Prayagraj to Bhopal route under Udaan-2, and Dibrugarh to Dimapur route for Uda-3 tendering process were assigned. Alliances Air has been entrusted with the responsibility of operating on the Lucknow-Gorakhpur route under the Udaan-3 tender process.
About Author
CoCo