02/02/2021
Union Budget: Water, sanitation and clean air are the integrated parts of health and well-being
New Delhi: The Union Budget 2021-22, presented in Parliament today by the Union Finance and Corporate Affairs Minister Smt Nirmala Sitharaman, was the main thrust on health and well-being. These form the foundation of self-reliant India.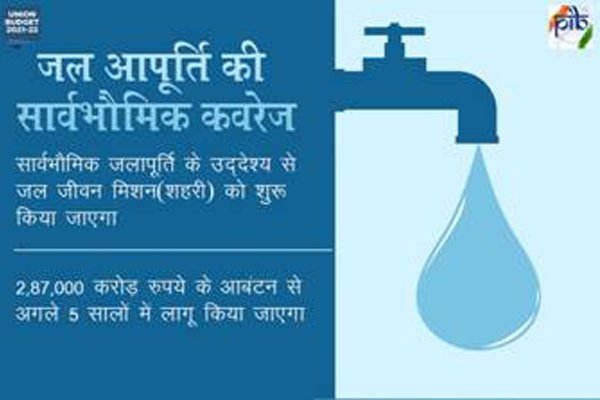 Therefore, a massive 137 percent increase has been made in the budget for health and well-being. The budget allocates heavily to these areas, with the World Health Organization repeatedly stressing the importance of clean water, sanitation and clean environment as a precondition for achieving global health.
Water Life Mission (Urban)
The Union Budget has announced the inauguration of Jal Jeevan Mission (Urban). Its objective is to provide equal water supply to 2.86 crore households in all 4,378 urban local bodies with tap connections and liquid waste management in 500 Amrit cities. It will be implemented in 5 years with an outlay of Rs 2,87,000 crore.
Clean India Healthy India
For the sanitation of urban India, complete sewage management and wastewater treatment, differentiation in the source of waste, single-use plastics, through effective management of waste from construction and demolition activities in the budget and biological treatment at all old dumping sites. The focus has been on reduction of air pollution. The Urban Swachh Bharat Mission 2.0 will be implemented over a period of five years by 2021-26 with an allocation of a total of Rs 1,41,678 crore.
Clean air
To overcome the growing problem of air pollution, in this budget, it is proposed to provide Rs 2,217 crore for 42 urban centers with a population of more than 10 lakh.
Scrap policy
A voluntary vehicle scrap policy is an important part of the Union Budget for disposal of old and dilapidated vehicles. This will help promote fuel efficient, environmentally friendly vehicles, which will reduce vehicle pollution and oil import bills. Automated fitness centers will conduct vehicle fitness checks, which will be after 20 years in the case of personal vehicles and 15 years in the case of commercial vehicles. The Finance Minister announced that the details of the scheme will be shared separately by the Ministry.