11/06/2021
UP Chief Minister Yogi Adityanath meets PM Modi
New Delhi: Uttar Pradesh Chief Minister Yogi Adityanath is on a two-day visit to the national capital. CM Yogi met PM Modi this morning at his official residence 7 Lok Kalyan Marg. He has already met Union Home Minister Amit Shah at his residence. After meeting Prime Minister Modi, he reached BJP National President JP Nadda at his residence. It seems that the round of meetings is not going to end. After meeting the BJP national president, he has to meet other ministers of the central government and BJP MPs as well. The market of speculation has suddenly become hot in the political corridors due to the speedy meetings during CM Yogi's visit to Delhi.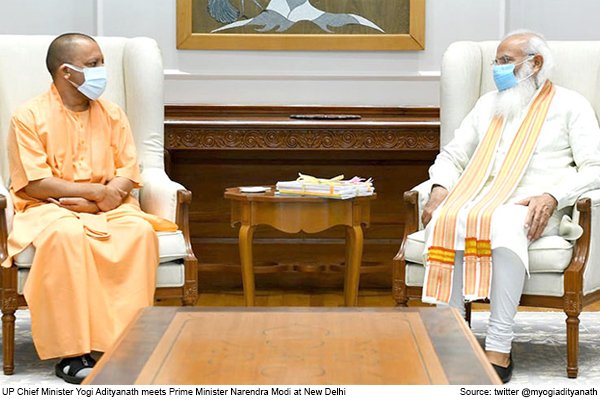 Uttar Pradesh Chief Minister Yogi Adityanath shared a photo on his Twitter and wrote, "Today, I had the privilege of receiving courtesy visit and guidance from respected Prime Minister Shri Narendra Modi ji in New Delhi. Heartfelt thanks to respected Prime Minister ji for providing time and kind guidance to meet your busy routine.
According to PTI, the Uttar Pradesh chief minister is also expected to meet top party officials, including party chief JP Nadda. Adityanath's visit to Delhi is reflecting a sense of discontent within the saffron party in the state, especially with the way Yogi Adityanath has dealt with the COVID-19 pandemic. There are certain reasons why the Uttar Pradesh Chief Minister's visit to Delhi has been so sudden.
Jitin Prasada's exit from Congress
Adityanath's visit to Delhi comes a day after former Congress leader Jitin Prasada, who hails from a well-known Brahmin family in Uttar Pradesh, quit the party and joined the BJP. According to NDTV, Prasad is expected to play a key role in the BJP's resettlement of Uttar Pradesh ahead of the state's elections, particularly in fixing the optics of the government considered pro-Thakur by a section of the state's Brahmins. In. However, the jury is still out on the influence of the former Congress leader on the Brahmin vote bank in the state.
UP elections in 2022
The yatra also assumes political significance as elections are due in 2022 in Uttar Pradesh and the party is expected to take all necessary steps to retain the state. The Uttar Pradesh assembly elections are due in 2022 and there is speculation about reshuffle in the state's cabin. According to reports, former bureaucrat AK Sharma, who retired to join the BJP in Uttar Pradesh earlier this year, may be given some big responsibilities in the state cabinet.
Criticism of Yogi Adityanath on dealing with Kovid-19
Adityanath has come under constant criticism for his handling of the COVID-19 pandemic in the state and the lack of coordination between his government and BJP MLAs and MPs.