24/11/2020
UP, Haryana, Maharashtra & U'khand to test Covid for people coming from Delhi
New Delhi: Corona cases are continuously increasing in the country's capital Delhi. This is a matter of concern for the government and the administration. Those who come to Delhi to work from neighboring states are used to traveling daily. In such a situation, the local administration of other states are worried that people coming from Delhi should not even carry the Corona virus with them. Due to this, neighboring states have started taking extra precautions. The Noida administration has already started a random test on the border for those coming from Delhi.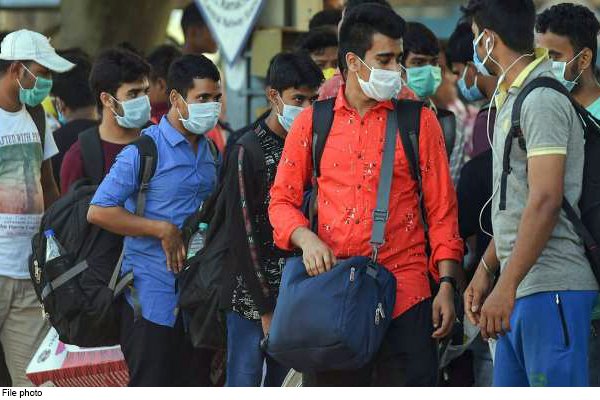 Corona investigation has also been intensified on the Ghaziabad, Haryana and Noida borders adjoining Delhi. Random checks of people are being done on all major entry routes on the border. Not only this, small entryways have also been sealed. Please tell that thousands of people from Ghaziabad-Noida and Haryana come to Delhi every day for jobs and business. Due to this, the district administration has started monitoring those coming from Delhi so that the corona cannot spread.
Maharashtra government took a big decision
On the other hand, the Maharashtra government has also taken a big decision for those coming from Delhi. Those coming from Delhi in any state of Maharashtra will have to show the report of Corona, only then entry will be given in the state. At the same time, in Bareilly, UP, the administration has appealed to the local residents to inform the control room if someone comes from Delhi.
All district alerts of U.P.
If a passenger is found suspicious in thermal screening at the Roadways bus station in Badaun, the kit will be immediately checked by Korena and will be treated with quarantine if it turns out to be positive. At the same time, a separate team has been claimed by the Health Department to investigate people coming from Delhi in Prayagraj. It has also been said that no one will be allowed to enter the city without investigation. The district administration has appealed to the people to inform the administration immediately if any person has come from Delhi.
Seeing the havoc of Corona, the officers in Moradabad division have also geared up. A special investigation operation has been started at Moradabad as well as at bus stations in Rampur, Amroha and Sambhal. There are instructions to isolate them when they find a corona-suspected patient. Kanpur DM Alok Tiwari said, will take a decision based on the report of random sample investigations for three days. If necessary, we will get every person examined. Tough steps have been taken in Agra to prevent infection. Special precaution is being taken at bus stand and railway station.
Corona investigation started on Uttarakhand border
Corona checks have been started at all border check posts of travelers coming to Uttarakhand from outside states including Delhi. Antigen investigation of all people is being done on the Asharodi and Kulhal borders of Dehradun. While random checks of people coming from private cars are being done at Narsan, Mandawar, Chidipur checkposts in Haridwar district. Random antigen checks are also being carried out for the passengers coming from outside at Kashipur, Kichha and Rudrapur border of Kumaon division. On the other hand, the record of the passengers going to Delhi by roadways buses in Roorkee is being maintained.
Also read in Hindi: यूपी, हरियाणा, महाराष्ट्र और उत्तराखंड हुए अलर्ट, दिल्ली से आने वालों की होगी कोरोना जांच