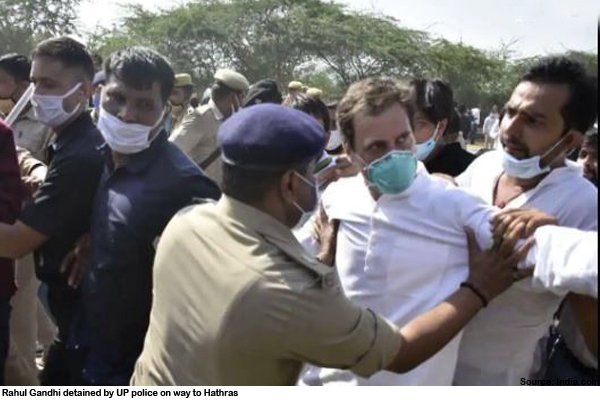 New Delhi: While there is anger all over the country over the life in Hathras in Uttar Pradesh, opposition leaders have also raised their voice against the Yogi government of UP on this issue. Congress leaders Rahul Gandhi and Priyanka Gandhi were visiting Vadra Hathras gangrape victim's family in their village, during which UP police stopped them on Greater Noida Expressway. Their cars were stopped by officers near the Yamuna Expressway, as Section 144 was applicable. After that Priyanka and Rahul started marching for Hathras. He has been detained by the UP Police.
Rahul Gandhi fell during the blow
Rahul alleged that the police lathi-charged and pushed him to the ground. When Rahul asks why he is being stopped because he wanted to go to Hathras alone and does not intend to violate Section 144. The police told them that they were arresting him under Section 188 IPC for violation of an order. It is being said that the UP Police also committed indecency with Priyanka Gandhi Vadra and tried to bring her down.
During the fierce debate between the police and the Congress workers, there was a push and in the meantime Rahul Gandhi fell to the ground. Congress leader Rahul Gandhi tweeted and wrote, "In Jungleraj, UP, the oppression of the daughters and the government continues. Never won a living honor and took away the dignity of the funeral. The BJP's slogan is not 'save daughter', 'hide the fact, save power'. He further said, "In times of sorrow, loved ones are not left alone. It is Jungleraj's wish in UP that meeting a family in mourning also scares the government. Do not be so afraid, Chief Minister! "
When the Congress workers prevented Rahul Gandhi from being detained, the police lathi-charged the Congress workers. Police took Rahul Gandhi and Priyanka Gandhi Vadra in a jeep. Congress workers from the police area had to lathi-charge to chase them away.
In this case, the National Human Rights Commission has issued notices to the Uttar Pradesh government and the state police chief in the Hathras rape case. The rights panel said in a statement, the NHRC has filed a lawsuit in relation to 'gang rape and cruelty to a 19-year-old woman belonging to Scheduled Castes in Hathras district'.
Also read in Hindi: हाथरस केसः यूपी पुलिस ने राहुल-प्रियंका को लिया हिरासत में