New Delhi: Anger among politicians, advocates and activists over the arrest of 21-year-old climate activist Disha Ravi on Sunday on charges of spreading 'toolkit' on social media on farmers' social media And there is an atmosphere of fear. Many people at home and abroad are justifying this arrest and expressing their anger on social media. Congress (Congress) leader Rahul Gandhi and Chief Minister of Delhi Arvind Kejriwal have also joined this fight. The arrest of Disha Ravi has been opposed by Delhi Chief Minister Kejriwal and Rahul Gandhi.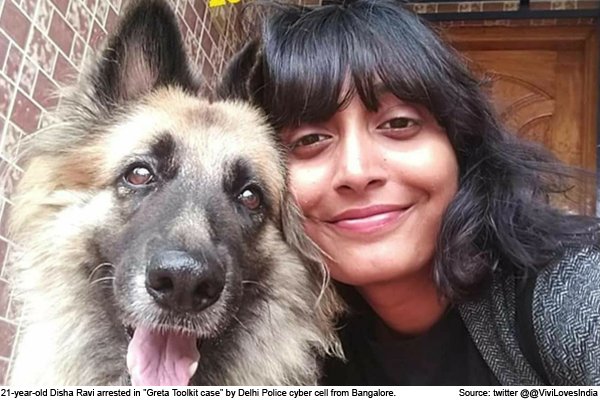 Arvind Kejriwal has tweeted that it is an 'unprecedented attack on democracy'. CM Kejriwal tweeted, "The 21-year direction Ravi's arrest is an unprecedented attack on democracy. It is not a crime to support our farmers. "
On the other hand, Congress leader Rahul Gandhi tweeted and wrote, "India is not going to sit silent." He has also shared some cuttings in his tweet.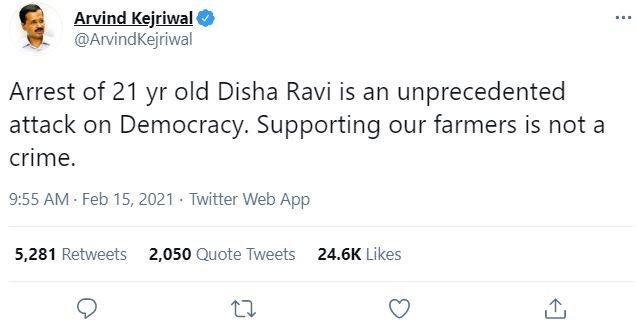 21-year-old Bangalore student and climate activist Disha Ravi was arrested on Sunday for her alleged role in sharing a 'toolkit' on social media related to farmers' protests. A Delhi court later sent him to 5 days police custody. Police have accused the activist of distributing the toolkit, which was later used by Swedish activist Greta Thunberg. However, according to reports, Disha Ravi's arrest is just beginning. Police are busy in the search for two more suspected accused in the case.
According to Delhi Police, the names of these suspects are Shantanu and Nikita Jacob. The team of Delhi Police is conducting raids in Mumbai and some other places to find them. Non-bailable warrants have been issued against both.
According to the news, the Bengaluru Police has stated that they had no information about the cyber police of the five members coming from Delhi. The team, along with two women policemen, reached Bangalore on Saturday afternoon.
Disha Ravi is accused of adding and forwarding a few things while changing the toolkit related to farmers. When Greta Thunberg shared the toolkit, Disha Ravi warned Greta that the toolkit had gone public. Later Greta deleted it and then shared its edited version.
What is a toolkit?
The toolkit, simply put, is a document designed to explain any issue. It also gives information about what one should do to solve the problem. This can include information about petitions, information about protests and mass movements, etc.
The toolkit that Thunberg shared tries to 'explain peasant opposition' in the national capital.
The toolkit says, "It is a document, which is able to make anyone aware of the opposition of farmers running in India, so that the situation can be better understood and farmers can be judged based on their analysis." . "
The toolkit then clearly states the status of farmers in India and talks about the recent agricultural laws of the center.
Instead of being supported to become self-sufficient and prosperous, most farmers are being subjected to the control of large corporations and international institutions, whose sole goal is profit, and necessarily include increased exploitation of nature.
It further lists what action might be taken to support the farmers' protest and the Delhi Police is currently trying to find out who made it.
Disha Ravi's role in the case
Disha Ravi Toolkit is the editor of Google Doc and is accused of being a key conspirator in the creation and forwarding of documents. He started a WhatsApp group and collaborated to create a toolkit dock. She worked closely with him to draft the document.
Police said that in the process of preparing the document, Ravi and other members of the group collaborated with the Pro-Khalistani Poetic Justice Foundation to spread disagreement against India.