30/12/2020
Which rules will change from the new year 2021, and how it impacts your pocket
New Delhi: Some rules which have a direct impact on the life of the common man are going to change from January 1. Check payment, LPG cylinder prices, GST, UPI transaction, Fastag, etc. are going to change from January. Since these rules are going to affect your everyday life, it is important to know about these changes in detail. Check Payment Rules
To investigate banking frauds, the Reserve Bank of India decided a few months ago to introduce a 'positive payment system' for checks, under which payment of more than Rs 50,000 may require re-confirmation of key details. This check payment rule of the positive payment system will come into effect from 1 January 2021.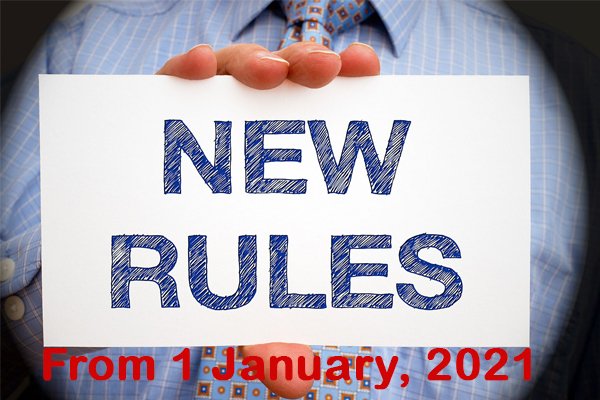 Contactless card transaction limit
The Reserve Bank of India (RBI) has stated that the limit of contactless card transactions and e-mandates for recurring transactions through cards and UPIs will be increased from Rs 2,000 to Rs 5,000 from January 1, 2021. RBI said that these steps are being taken to adopt digital payments in a secure manner. These are well suited to secure payment, especially during the current epidemic. RBI Governor Shaktikanta Das said that it would depend on the mandate and the discretion of the customers.

WhatsApp will stop working on select phones
Popular messaging platform WhatsApp will withdraw support from some platforms from 1 January. Mentioning the supported operating systems, the WhatsApp page mentions that it recommends providing support for using these devices: Android running OS 4.0.3 and newer OS, iPhone running iOS9 and newer OS and phones with KaiOS 2.5.1 new, with JioPhone and JioPhone2.Car and Bike Prices

Almost all auto companies in the country have announced a price hike from 1 January. These include the largest car companies Maruti Suzuki India, Hero MotoCorp, Renault, Honda Cars India, Tata Motors, MG Motor India, and Mahindra & Mahindra. These companies have announced to increase the prices of passenger and commercial vehicles from 1 January. Leading two-wheeler manufacturer Hero MotoCorp has also announced an increase in the prices of bike-scooters.
Landline for Mobile Phone Calls
To make calls from a landline for mobile phones in the country, callers will soon need to put '0', the Department of Telecom has asked Telecom to make necessary arrangements by January 1 to implement the new system. The department has accepted the recommendation of regional regulator TRAI to impose '0' for such calls, a move that would create a sufficient number of space for telecom services.
FASTag for all four-wheel vehicles
The Union Ministry of Road Transport and Highways has issued a notification to make FASTAG mandatory for all four-wheelers from January 1, 2021. Fastag has become mandatory for M and N class four-wheelers sold before December 1, 2017. For this, the Central Motor Vehicles Rules, 1989 were amended. The Ministry issued a notification in this regard on 6 November.
UPI Payment
Users may have to pay additional charges on transactions from Amazon Pay, GooglePay, and Phone Pay. NPCI has reportedly decided to levy additional charges on the UPI payment service (UPI payment) run by third-party app providers from 1 January. NPCI has introduced a 30 percent cap on third-party apps, starting the new year. However, Paytm is not inclusive.