13/04/2021
WHO chief warns, says vaccine is not the only weapon; end of corona is far away
New Delhi: World Health Organization (WHO) Director-General Tedros Adanom Gebreyes said on Monday that there is confusion over the Covid-19 that the epidemic has ended to a great extent.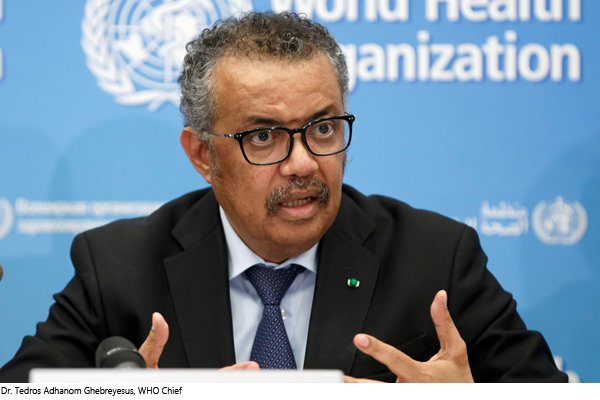 Although more than 78 crore doses of anti-Covid-19 vaccines have been administered worldwide, the vaccine is not the only weapon. He said that other measures including wearing masks and maintaining physical distance should be implemented to avoid this disease. However, he said that the end of the epidemic is now far away. However, by taking stringent measures on public health measures, the epidemic can be brought under control in a few months.
"We also want to see societies and economies reopen, and resuming travel and business," Tedros told a news paper. But still, people are dying due to lack of intensive care in many countries – and it is completely avoidable. "
The WHO chief said, "Worldwide, January and February saw a decrease in infection cases for six consecutive weeks. Now we are seeing an increase in cases for seven consecutive weeks and the death cases are increasing since four weeks. Last week, the highest number of cases occurred in a week. He has had more than three cases before that. There has been a huge increase in cases in many countries of Asia and West Asia. "
He said that the Covid-19 epidemic is a long way off. But we have many reasons for optimism. The decline in cases and deaths during the first two months of the year suggests that the virus and its variants can be prevented.
India has overtaken Brazil with the second highest number of infections worldwide after the United States. But, India is strongly contested by the second wave of Corona. India has so far given approximately 105 million vaccine doses among a population of 1.4 billion.
Given that there was a 9 percent increase in cases in the previous week, a seventh consecutive week increase, and a 5 percent increase in deaths. He said, "If you look at the second variant of the epidemic, which is growing rapidly now."
Tedros said that in some countries, despite the continued proliferation of Corona, restaurants and nightclubs are full. The markets are open with huge crowds and some people are not even taking precautions.
He said, "Some people are thinking that they are relatively young, so it doesn't matter, they won't have corona, but that's not it."
According to the data of the World Health Organization, the first case of corona virus infection was reported in December 2019 in Wuhan city of China. So far, 13,65,00,400 people worldwide have fallen prey to it. Of these, 29,44,500 have died.
(With agency inputs)