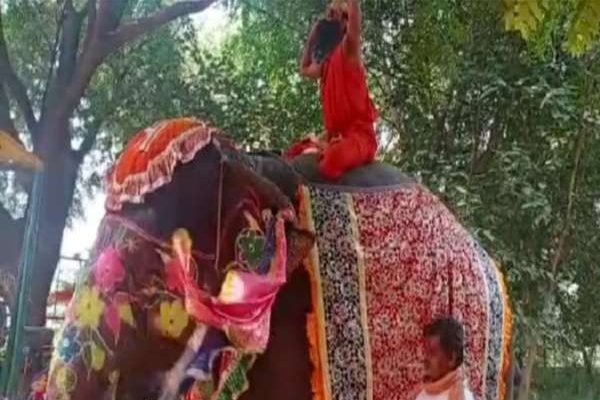 New Delhi: Although yoga is done in a serene environment sitting on the ground, but Baba Ramdev continues to find new ways of doing yoga. In this episode, Baba Ramdev sat on an elephant in Mathura's ashram and started doing yoga. Baba was sitting without any support, beating the feet. When the elephant moved, his balance deteriorated and fell down. The scream of the people watching the scene came out. But Baba immediately got up. They have not even scratched. Although this video is definitely going viral.
Baba Ramdev, the lord of flexible and agile body, did not take even a minute as soon as he fell from the elephant, after getting back, shook his clothes and sat in his place. This video of about three minutes is going viral. Thankfully Baba Ramdev was not hurt.
This incident is of the indifferent Karshana Ramanrati Ashram Mahavan. Where Yoga Guru Baba Ramdev was performing Monday Yogasan. Yoga and meditation were done with the saints and students of the school near the deer place in Ramnareti Ashram. In which Peethadhishwar Mahant Karshin Guru Sharanananda Maharaj did yoga practice with Baba Ramdev. Baba Ramdev told the benefits of yoga practice by doing Kapala Bharti, Anulom Antonyms, Surya Namaskar, other Yogasanas in yoga practice. During this time, Baba Ramdev also did yoga yoga sitting on the elephant.
Also read in Hindi: योग गुरु बाबा रामदेव हाथी पर योगा करते हुए गिरे, देखने वालों की निकली चीख