New Delhi: Corona cases are continuously increasing in the country's capital Delhi. Chief Minister Arvind Kejriwal has expressed concern in this matter. After which the Delhi government has been forced to act strictly. The local administration and the corporation say that social distance was not being followed in Nangloi-based Janata Market and Punjabi Basti Bazaar and people did not even put on masks.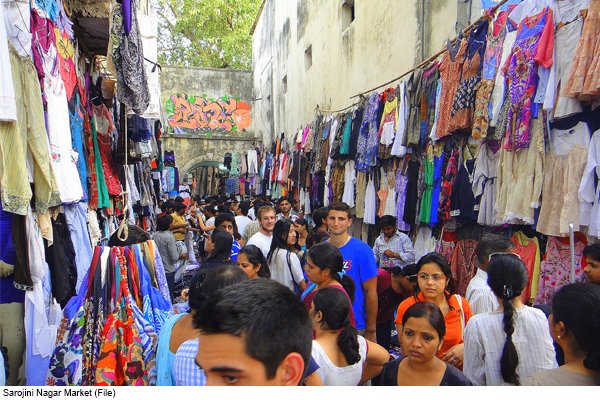 More than 100 people died of corona infection in the country's capital Delhi for the third consecutive day. In the last 24 hours, 121 people lost their lives with this deadly virus. With this, the total death toll from Corona in Delhi has increased to 8,391. In the last 24 hours, 6,746 new cases of corona infection have been reported. At the same time, a total of 5,29,863 people have been infected with Corona so far in Delhi. While the number of active patients has reached 40,212.
Kejriwal said that the way the state governments and the Center are fighting the battle of Corona together, we will definitely win it. He has thanked the Center for assuring the ICU beds demanded by the Delhi government. Kejriwal hopes that the Center will soon provide him with 750 ICU beds. Meanwhile, Chief Minister Arvind Kejriwal is also appealing to people to wear masks and keep social distancing.
The growing pace of corona infection in the country's capital Delhi is becoming frightening. But the way in which the crowds are increasing in the markets of Delhi, it does not seem that the situation is worse with Corona in Delhi. The problem of negligence is that people are going to the markets without any work and increasing the crowd. People roaming around without mask will be seen anywhere in Delhi. Apart from the weekly markets, people are also leaving in large numbers to eat and drink on weekends. The people of Delhi are unable to understand how bad the situation is and how much worse it can become.
Although Kejriwal ji has imposed a fine of 2000 for not wearing a mask, but it would probably be better if people were made aware that instead of fearing that adherence to masks and social distancing can stop the spread of this disease.
Also read in Hindi: Delhi: कोविड की गाइडलाइन पर अनदेखी से प्रशासन सख्त, 2 बाजार किए सील