Patna: During the swearing-in ceremony on the very first day of the 17th Bihar Legislative Assembly, 5 MLAs of Asaduddi Owaisi's party AIMIM objected to the written affidavit. The MLAs objected to the word Hindustan written in the affidavit and were adamant on speaking India instead of Hindustan. Annoyed at his inflection like this, BJP MLA Neeraj Bablu said, "Those who cannot speak Hindustan should go to Pakistan."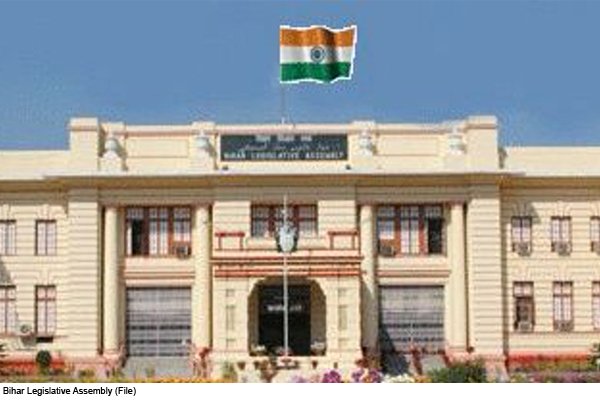 Explain that the newly elected MLAs are being administered oath in the Bihar Assembly, but the AIMIM party MLAs avoided the use of the word Hindustan during the oath and created a strange situation in the House. During this time, MLA Akhtarul Iman took the oath in Urdu language and used the word Bharat instead of Hindustan.
All the other newly elected MLAs read the affidavit, but as soon as Akhtarul's name was called for the oath, he objected to the word Hindustan. He was to be sworn in Urdu. He asked Protem speaker Jitan Ram Manjhi for permission to speak the word Bharat in lieu of Hindustan. He said that the word Constitution of India is used when taking oath in Hindi language. The same word appears in Maithili language, but in Urdu, the form given for the oath has been written in India instead of India. Akhtarul said that he will take oath in the name of the Constitution of India and not in the name of the Constitution of India.
However, on the objection of Akhtarul, the speaker Jitan Ram Manjhi said that this is not happening for the first time. Earlier, in the Urdu language, India was written instead of India in the form of oath. There is no difference other than words in both names. Manjhi's insistence also had no effect on Akhtarul and he remained adamant on pronouncing the word Bharat instead of Hindustan. Let us know that 122 MLAs were to be sworn in on the first day of the assembly and 123 MLAs will be sworn in on the second day on Tuesday.
Also read in Hindi: शपथ ग्रहण समारोह में अड़े AIMIM के विधायक, हिंदुस्तान बोलने पर जताई आपत्ति